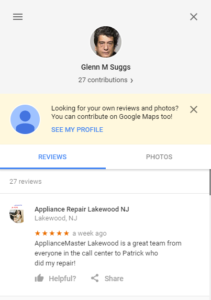 It appears as though Glenn M Suggs is back. We first reported about the profile of Glenn M Suggs when we covered the reviews of Russ Darrow. In fact, Courtny Gerrish featured Mr. Suggs in her news report. The profile image for Glenn M Suggs is actually the mug shot of Jose Ferreira who plead guilty to a cold case murder. Shortly after the news story aired, all of the of the reviews were deleted. Glenn had 27 reviews prior to them all being deleted. It is unknown if it was Google or the vendor that deleted the reviews.
Today on July 9th, 2017, we took a look at Mr. Suggs' profile and see that it is used again to post 111 reviews in the past week. The reviews range from Brooklyn, New York to Los Angeles California. Again Mr. Suggs has needed 7 different dumpster rentals in 7 different cities in Michigan. They are as follows: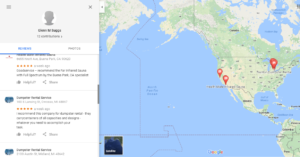 Dumpster Rental Service
100 S Lansing St
Owosso, MI 48867
Dumpster Rental Service
2100 Austin St
Midland, MI 48642
Dumpster Rental Service
201 N Saginaw St
Durand, MI 48429
Trenton Dumpster Rental
1545 Kingsway Ct
Trenton, MI 48183
Dumpster Rental Service
616 E Frank St
Caro, MI 48723
Dumpster Rental Port Huron Mi Group
511 Michigan St
ort Huron, MI 48060
Clawson Dumpster Rental
76 W 14 Mile Rd
Clawson, MI 48017
The only difference this time is that Glenn has removed his image and replaced it with the silhouette of a person. I would have thought that the profile would have been ignored by the vendor or person using it after it was publicly exposed, but I was wrong. This just goes to show you just how sophisticated this network is. We will be diving deeper into the above Dumpster Rental company and their locations since they are all tied back to the same website.
Please follow and like us: