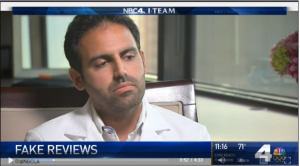 Dr. Rodney Raanan DDS seems to do more than just make fake smiles, the good doctor was outed on by Joel Grover on NBC LA on September 25th, 2017. Mr. Grover's investigation highlighted several reviews that appear to be fake.   I first learned of Dr. Raanan back in December 2016. I was looking at the reviews for Immediate Response Plumbing when I found one reviewer that connected me to Raanan. In fact 5 months ago, I reached out to Dr. Raanan to an inquiry about his reviews. I have was never granted a face to face meeting or any reply.
The reviewer that I was able to connect to Dr. Raanan was that of Jerry S. Pettit. Jerry has left 33 reviews in several states and needs several security systems and locksmiths when he didn't need plumbers or limo services. Yes, Jerry is a fake profile posting reviews for several of the businesses that I have covered previously. There are the reviews from Mark Hengry, which is using the photo of actor Mark Ruffalo, Janet Downer whom the winner of Master Chef Whitney Miller, and Martin Allen which is using a stock photo image. What is the also interesting is seeing the same businesses being reviewed by each of these profiles:
EZ Movers, Inc.
3400 Oakton St, Skokie, IL 60076
Tapia Locksmith
Napa, CA
Rentals
63 Brudenell Grove, Leeds LS6 1HR, UK –
VIP Express Buffalo Airport Taxi Cab
Amherst, NY
Facebook Reviews
Dr. Raanan has suspicious reviews on Facebook too. First off there are the handful 0f reviews from UCLA dental students or dentists; Ellie Kohan, Jonathan YZad, Luciano Andrada, Sahar Ansari and Alireza Moshaverinia. There are the two family members that felt compelled to leave reviews like, Matthew Raanan and Loretta Raanan. Even Dr. Raanan left himself a Google review and posted photos too. There are reviews from people that don't live in Los Angeles, California or even the United States too. They are; DrParth Purohit, Gordon Buckless, and Munna Shemas.
""
Check out other businesses falsifying reviews:
Northwest Movers
Detroit Seafood Market
Please follow and like us: