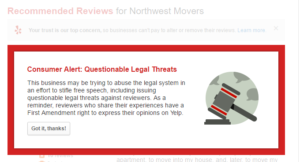 Should Northwest Movers be trusted? They have a 4.9 Google My Business rating so surely that has to be a great company to use. A deeper look into their reviews uncovers a disturbing trend. Either people use them to move to Arizona or to leave Arizona.
Matt Torres, cristina tavena, Sophia Gutierrez and Yessica Virelas all have left reviews for businesses in Arizona. Nevermind the fact that Deanna Clover also reviewed them. Deanna is connected to Anton Brother Marketing, APVI and AZ Student Movers (who are located in Arizona).
Tiffaney Graham is another fake profile being connected to the following businesses: Rowlett Family Denistry, APVI, and AZ Student Movers. Poor Tiffaney has a lot of issues with her teeth too as she has needed to use 5 different dentists in 3 different states. She sure does move a lot as she needed 4 different moving companies in 4 different states.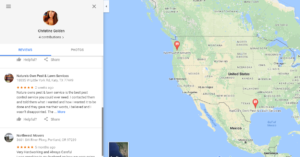 Christine Golden claims to hail from Houston as she left 3 reviews for 3 different Nature's Own companies. Nature's Own shares reviews. If you look at the reviews for any of the Nature's Own businesses you will see that their reviewers are all interconnected and review countless businesses.
Melissa Raub also used APVI and Flavorus. That is funny because so did Deanna Clover. Alejandra Paz had carpets cleaned in Flushing, NY, a new garage door in Sioux Falls, SD and a taxi service in Toms River, NJ. Dr. Devonte Weston also used both Northwest Movers and APVI.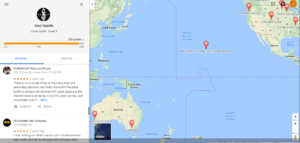 Mary Wazelle is a fan of APVI, Scottsdale Cab Company and used a realtor in Hawaii. 6 months ago she used Northwest Movers in the last 2 months has been to Fargo, ND and Maplewood Minnesota. Is Mary fake? You betcha. She has also traveled to Australia, the UK, and India.
I reached out the folks at Northwest Movers and their response was: "Making such false claims is pretty serious. You did an OK job of hiding your domain registrant through godaddy. You forgot to hide your IP address when sending your email, however. Were on you." That is their comment to my inquiring about the practice of engaging in false reviews. I do take their reply as a threat as Yelp seems to imply.
Update.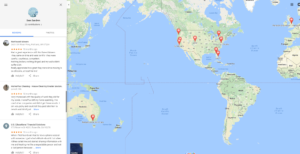 I decided to take another look into Northwest Movers as I was put into contact with a lawyer. Technically I was introduced to their lawyer. So here is the official reply. Northwest Movers has had somebody posting fake reviews for over 2 years. Here is Sara Sanders profile. Sara has 19 reviews ranging from Australia to the United Kingdom and all over the United States. She also needed a mover in San Jose, CA a month prior to needing the services of Northwest Movers.  Either Mr. Kyle Graziani of Northwest Movers in Portland, Oregon is personally paying for this reviews or he has hired a 3rd party vendor. If I were Kyle's lawyer. I would educate him in the law. Fake review is a felony and punishable of a fine starting at $250,000.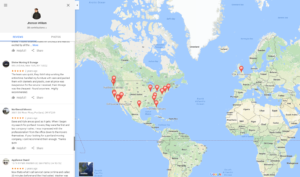 Here is Mr. Jhonson William's profile. Jhonson has the life that I am envious of. I want to travel all over the United States and have a house that needs to have a chimney cleaned in Houston, TX and home in Tulsa, OK that needed a new garage door and a new AC unit installed in Encino, CA and then have food delivered directly to my door in Gainesville, FL. I don't know if I would want to move 4 times in 4 different states, California, Oregon, Texas, and New York and I can skip the two DUI's in California. It is shocking that Jhonson needed the ORM services of Tyler Collins of Orange County SEO too.  I wonder if Mr. Williams died as he has yet to post a new review this year. Northwest Movers has an amazing list of customers. Their customers sure do travel a lot.
Northwest Movers
3601 SW River Parkway
Portland, OR 97239
503 201 7953
Update 11/12/2017
Northwest Movers is claiming to be under new ownership. James Munson contacted 3 of the negative reviews to state that he is the new owner and wants to rectify the complaints.
Please follow and like us: