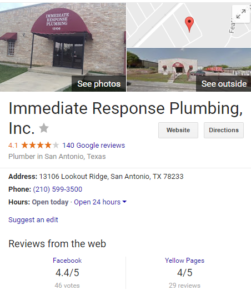 Picture sitting at home.  You are minding your own business.  You are either playing with your kids, watching tv or working from home and all of a sudden there's a knock on your door.  You open your front door and you get the shock of your life.  An employee from a business you gave a negative review to wants to discuss your review.  I know this sounds like fiction, but Immediate Response Plumbing Inc in San Antonio is being accused of this very thing.  The review in question was posted over 6 months prior.  It was not very easy for the IRP to find the reviewer and to show up unannounced.  They are contracted out by a home warranty company.  The reviewer is not the owner of the house but a renter.  So, IRP would have to check all of their records to find the reviewer in question or perform a Google search.  A google search is more likely as it took me all of 30 seconds to find the reviewer's home address.
If that does not make you not want to use Immediate Response Plumbing at 13106 Lookout Ridge San Antonio, TX 78233 (210) 599 3500, and it should, then take a look at their reviews.  I will leave Yelp alone for a moment and come back to it as they have 11 reviews and a 2-star rating. I want to focus on their Google reviews since they have 115.
It is our expert opinion that Immediate Response Plumbing has fake reviews that were bought using a review service.  This is illegal and subject to a fine by the FTC.  There is no way to tell if it is an independent company buying the fake reviews or a company employee doing it.  IRP will be on the hook for the $250,000 fine for engaging in this practice.  We do know for a fact that countless reviews are fake.  The reviewers end up reviewing a lot of the same businesses.  Most of the business are in different states, Utah, Michigan, and Florida.  Two reviewers are using the same generic picture of a woman, Craig Collins, and Tennessee Buckets.  Even the name looks super fake.  I did find one profile picture belonging to a real person.  Stay away and avoid Immediate Response Plumbing Inc.  Their real reviews are the 1-star complaints.  They even replied to the negative reviews, advising that they were in the process of hiring new staff.
Fake reviews exposed
Here are the first 3 reviews showing up on the Google My Business listings.  All 4 of these reviews are fake.  There probably not even real people.  Google image searches only identified them as generic terms, "average white guy" or "white girl and Hispanic guy".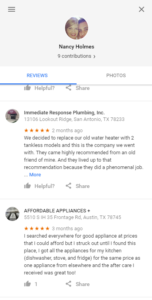 Nancy Holmes – fake reviewer
The first review is from Nancy Holmes.  She posted her review in the middle of January 2017.  Her review is a 5-star glowing review.
Nancy is quite the traveler.  She reviewed Quality Appliance Service in West Valley City 8 months ago. Apparently, they fixed her garbage disposal.  She also reviewed Air National Air Conditioning & Heating in Tampa, FL 3 months ago, who performed "whole installation on my new fixer".  So, she lives in Utah, Florida and Texas???  No, she does not, she is not a real person.  This is a fake profile set up to post fake reviews.
Here is Nancy's fake review:
"We decided to replace our old water heater with 2 tankless models and this is the company we went with. They came highly recommended from an old friend of mine. And they lived up to that recommendation because they did a phenomenal job. I went to work in the morning and we still had our old heater and by the time I came home we had two new shiny small heaters, heating away. I have taken several very long showers and the water never gets cold. Good job and well worth it."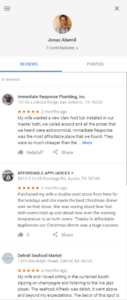 Jonas Abernil – fake reviewer
Jonas Abernil also left a glowing 5-star review for Immediate Response Plumbing in San Antonio Texas and happened to leave a review for Air National Air Conditioning & Heating in Tampa, FL.  He also reviewed Detroit Seafood Market in Detroit, MI.  Jonas's profile was used to post 1 review a month in a 3-month span for each of the above businesses.
Here is Jonas' full fake review: "My wife wanted a new claw foot tub installed in our master bath, we called around and all the prices that we heard were astronomical, Immediate Response was the most affordable place that we found. They were so much cheaper than the other companies that we were kind of skeptical but that skepticism was for nothing because we called them out and they did a great job from first contact all the way through to the installation of the new tub, everything went great and the tub looks great and works great. My wife and I are very happy with the work that they did at our home."
For those keeping track at home, we have 2 reviews for Immediate Response Plumbing and Air National.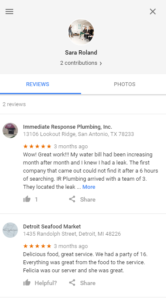 Sara Roland – fake reviewer
Sara Roland has had only 2 reviews, 1 5 stars for IRP and 1 for Detroit Seafood Market.  There is a pattern here.  The odds of 2 people posting reviews for the same business are extremely low.  The fact they 3 different people are review 2 of the same business in different states, is alarming and suspicious. They would have to be friends, family or dating/ spouses.
Here is Sara's fake review:
"Wow! Great work!!! My water bill had been increasing month after month and I knew I had a leak. The first company that came out could not find it after a 6 hours of searching. IR Plumbing arrived with a team of 3. They located the leak in less than 45 minutes. It was in our side yard, a tree root had punctured the water main. They dug up the ground and fixed the leak. They did a fab job and saved me a bundle on my water bill."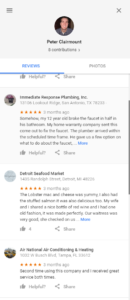 Peter Clairmount – Fake reviewer
Peter Clairmount is another traveler.  He has left reviews in Utah, Detroit, Texas and Mississippi (aka Florida).  Peter managed to review Quality Appliance Service in West Valley City, Detroit Seafood Market and Air National in Tampa.
It does not take a scientist to see that these businesses are all involved with a service to falsify reviews. There is no way 3 people could review the same 3 businesses in several states.  In fact, two profiles are using the same generic photo, Craig Collins, and Tennessee Buckets.  I noticed that the profile picture for John Olszewsi is for Michael Johnson.
I have reached out to Immediate Response Plumbing Inc and they have not responded back to me. It is advisable to avoid doing business with IRP per their real negative reviews.  The theme in their complaints is poor or shoddy service and rude office staff.  The fact they have numerous fake reviews solidifies that they shouldn't be trusted.  Yelp they have a 2-star rating based off of 11 reviews.  They have 7 1 star negative reviews.
Stay away from Immediate Response Plumbing
Immediate Response Plumbing is either a really great company with world travelers as clients or the positive reviews are attempting the mask the complaints and negative reviews. They have complaints of people complaining of being over charged, rude office staff and not being honest about repairs needed. If you have a choice to use another company do so. If you home warranty company sends them out, turn them away. You much better off in the long run.
Update 4/25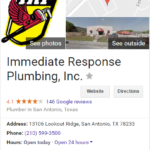 Immediate Response Plumbing has started adding fake reviews this week. They now have 146 reviews. 5 out the 6 reviews have been determined to be fake. I have reached out Bob at Immediate Response Plumbing and have not heard back yet.
Update 4/29 Immediate Response Plumbing Inc lost 3 reviews this week. Those reviews have since been replaced by 3 new reviews, One from Gaye Matei, Robert M Tiller and Mike S Morales. All 3 reviews are fake. An SEO reached out Bob Bruccola for comment, but have not heard back.
Immediate Response Plumbing, Inc.
13106 Lookout Ridge
San Antonio, TX 78233
(210) 599-3500
Please follow and like us: