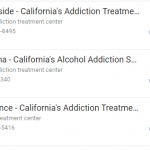 I have been binge-watching the old TV series, "The Cleaner." If you haven't seen it, it is based on the real-life story of recovered drug addict Warren Boyd and his calling to help people recover from the battle with addiction. Mr. Boyd has a real passion for helping people get clean. There are others who see addiction treatment as a way to make a quick buck. Some friends and I were discussing the recent rash of drug rehab listings on Google Maps. We commonly refer to these Google My Business listings as GMB because that is what Google calls them.
We have found 106 drug rehab listings using either the same naming conventions or GMB free website (<– something wrong with the last four words here). These listings just started showing in the past few weeks and started receiving several five-star reviews within a 24-hour period. The naming is Drug Rehab + city name – State name Addiction Treatment Specialists and similar fake website addresses, drug-rehab-city name-state.business.site. The business.site is the free Google website any listing can create for free. You control it in your GMB dashboard, just you can with any of the information on your listing.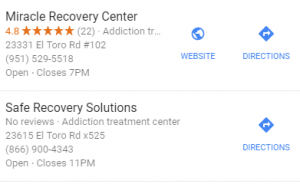 I performed a Google search for drug rehab listings near my office. During my lunch hour, I decided to go and "check myself into rehab." I went for a walk to check out the first listing. I went to Safe Recovery Solutions. I had walked by this location a few times grabbing lunch. I had never seen it as I passed by. That's because it doesn't exist. It's a P.O. Box being rented from El Toro Mail Boxes. I then walked to the second listing that I found on Google.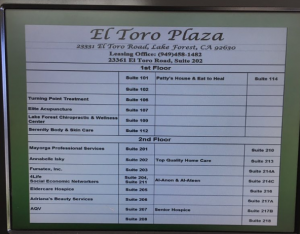 I was sure that this listing existed as it is located in a professional medical office building. I walked into the building and quickly saw a staircase in front of me. There were office doors lining both sides of the ground floor. I looked to my right and found and saw the electronic directory sign. I couldn't locate Miracle Recovery Center on the directory; in fact, there's no company attached to suite 102 on the directory.. I walked down the hallway, but all I saw on the door was the suite number and a no solicitation sign.  

I tried to check myself into rehab and I failed. I know that seeking addiction treatment is not a joking matter. That's the point of this exercise. If you, a friend, or family member is seeking treatment, this is not what they want to experience. They should be able to find real and legitimate rehab listings that they can visit.
Please follow and like us: