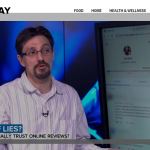 Did you happen to catch ReviewFraud on
The Today Show
or on NBC Nightly News last week, February 27th, 2019? The segment featured fake reviews on Amazon, Facebook, Yelp, and Google. Gadi Schwartz even created a fake Facebook page and purchased fake likes and reviews for his non-existent business. The story aired in every time zone except for the Pacific time zone as it was preempted by Michael Cohen testifying in front of Congress.
During the segment, Gadi and I discussed the profile of Zara Emily that had left reviews all over the United States, Europe, and the Middle East. It turns out the profile photo is the image of actress Abigail Breslin. The image is of her on the red carpet for the movie premiere of Kit Kittredge: An American Girl in 2008. This is not the first time that Ms. Breslin's alter ego Zara Emily was exposed for leaving fake reviews. It was first exposed by NBC LA investigative report Joel Grover when he confronted Dr. Rodney Raanan.
The high of being interviewed on The Today Show was quickly overshadowed by Google announcing that the Spam Board was going to be shutting down. Google is requiring that users now use their new Business Redressal Complaint Form to report Google My Business listings suspected of violating their TOS. This new policy is removing the Product Experts team of working users to report the spam listings. I am covered by an NDA with Google as I am a Product Expert myself so I can't discuss what led to this update. I can say that the timing is interesting, to say the least. I had announced the night before on social media that the interview I did would be airing the next day. Was this new update a form of saving face or damage control?
This change in policy will greatly hinder the PEs from identifying patterns or holding Google accountable. Use PE's circle back when its been weeks or months without any activity on an escalation we send in. I am still waiting on an escalation of spam listings that I helped to work on and reported last August. Needless to say I have escalations still open from January.
The same spammers that I report repeatedly keep at it and create new batches of fake listings. It's a good thing that they are oblivious to how easy it is to find and identify their fake listing network. They think they are smart by hiding the reviews or leaving several reviews in the same geographical region. They have a tell, that I will never share publicly that makes all of their efforts futile.
I and other users should not have to keep reporting spam and bad actors on a daily basis. I shouldn't have to keep reporting the same group of fake listings on a bi-monthly basis. I and others can easily see the patterns that Google is unable to see. Google can't remove or ban Zara Emily's profile when it was reported three times. I am feeling very George Orwell Animal Farmish at the moment. Humans Bad/ Machines Good. In closing, if you see spam listings and fake reviews networks, please report them here and myself and my colleague will continue to fight for you.
Please follow and like us: