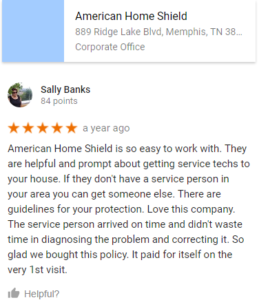 American Home Shield is really hated by their customers. A quick check on their social media accounts shows complaint upon complaint upon complaint. They currently have a 2.8 rating with the BBB. So is American Home Shield a reputable company to use? AHS was sued in 2007 for "engaged in a pattern and practice of failing to fulfill its contractual obligation to its customers." AHS settled in 2008. The vendors that AHS works with raise some concerns that this is still an ongoing issue. While investigating another fake review spam network, I found a review from Sally Banks. Sally has left a majority of her reviews in Illinois and Tennessee when she wasn't visiting Miami, Denver, or Delta Utah. I can not find any evidence to support that fact Ms. Banks is real. In fact, the law firm she reviewed, exposed 879 new businesses exchange in review manipulation. The biggest offender is a sister company of American Home Shield too.
There are two Google My Business listings for AHS:
American Home Shield
889 Ridge Lake Blvd, Memphis, TN
American Home Shield Corporation
1524 Lincoln Hwy, Carroll, IA
Vendors:
Immediate Response Plumbing whom we previously identified as having fake reviews. The are several complaints against this company for lack of service, price gouging or claims that the work was not under warranty.
Just Plumbing Services Inc has a lot of negative reviews complaining about service and rude staff. Around July 2017, the fake positive reviews started popping up. There are several reviewers that reviewed Immediate Response Plumbing as well.
Emergency Maintenance Company also has fake reviews from people that reviewed Immediate Response Plumbing and Just Plumbing Inc.
Active Appliances Inc. Appliance Repair
6736 Van Nuys Blvd, Van Nuys, CA
Greenway Home Services
Nashville, TN
Do you know of other vendors that need to be added this ongoing list? Please email us so we can get them included.
Please follow and like us: