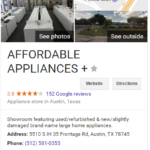 Thinking about buying an appliance from Affordable Appliance Plus in Austin, Texas? Don't!!!! While Affordable Appliance Plus touts a 13-month warranty, negative reviews state otherwise. The common theme in the negative reviews is people being sold and delivered appliances that don't work. 7 reviews state that the appliance arrives broken and quit working within a few weeks. A few reviews state multiple calls for repairs on the same appliance. This is just from their Google listing. They have an F rating with the BBB with 35 consumer complaints. They even ignored 5 complaints. So how does this company have a 3.8-star rating with Google? The 5-star reviews are fake and being posted to hide and mask the real negative reviews.
Glowing fake reviews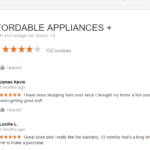 The profiles that are leaving glowing 5-star reviews are also reviewing the same business over and over. Erica Dallas has managed to buy an appliance in Austin and while getting her washer and dryer repair in Salt Lake City, Utah. She is also a customer of Immediate Response Plumbing. There is also Julie Lopez who has been to Detroit Seafood Market and while living in Indiana while getting her having her Maytag double oven repaired in California. Then we have Taylor Richards whom has also been to Detroit Seafood Market and has used Immediate Response Plumbing in San Antonio. Our personal favorite is James Kevin, which is the actor with his name reversed and using his picture.
There is a clear pattern among the 5-star reviews. The reviewers review the same businesses over and over. The reviews are barely in English. The fake reviews are all posted in the same time frame while starting at the same time.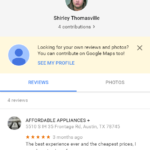 Fake reviews can not mask nor fix the fact the Affordable Appliance is being accused of selling broken appliances. We believe that Affordable Appliance shouldn't be in business. If the complaints are true and they all say, then Affordable Appliance is criminal in their actions. Faking reviews is illegal and punishable by a $250,000 fine from the FTC. If they the FTC determines that Affordable Appliance is, in fact, selling and delivering broken appliances, not honoring the 13-month warranty, they could see a $3.6 million fine like Sage Auto received for practically the offenses.
Affordable Appliance can get the fake reviews cleaned up by contacting the service they used and asking for the reviews to be deleted or altered to be some like I like Turtles and then they can flag them as being off topic. That only address the fake the reviews. They need to focus on service and their product line. If they are selling broken washers and dryers, they need to stop it. They need to purchase and sell only working appliances or make sure that their product is in excellent working order before being delivered. If they is an issue and appliance stops working, they should make sure it only needs to be fixed once. An even better step in the right direction is to replace or take back or refund all of the appliances and costs ensued to make their customers whole. It might be too late at this point, but it never hurts to do good and start making amends.
Update 12/16/2018
Affordable Appliance Plus has updated their Google listing to show that are now permanently closed.
Please follow and like us: