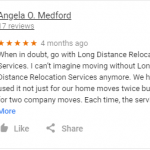 Working with combating review spam, I have seen my share of fake reviews and stolen identities. I have flagged my fair share of fake reviews and watched Google delete all of the reviews associated with that user. Unfortunately, Google doesn't ban or delete the account and the scammer uses those same profiles again. Last Thursday, August 2nd, 2018, a user jumped into a thread claiming she had been waiting for help with a company with over 35 fake reviews. Another TC was already helping on the thread and told the user to be patient and somebody would get to her. I saw the exchange and found the unanswered thread. You see my curiosity was peaked when the user mentioned that it was for a moving company that was holding their stuff hostage. I had been following the story on hostage movers that were being charged with the RICO Act and was wanting to get this user to contact the proper authorities. As it turns out Long Distance Relocation Services at 2457 E Washington St, Indianapolis, IN 46201 is not one of those companies. They are registered in Dallas as Kd Clark Investments LLC 9330 LBJ Freeway Suite 900 Dallas, TX 75243 according to their registered US Dot number. It turns out they have a total of 4 different Google My Business listings:
Long Distance Relocation Services
3365 Hollins Ferry Rd, Lansdowne, MD 21227
Long Distance Relocation Services
1275 Triangle Ct, West Sacramento, CA 95605
Interstate Relocation Systems
3824 Cedar Springs Rd, Dallas, TX 75219
Long Distance Relocation Services
2457 E Washington St, Indianapolis, IN 46201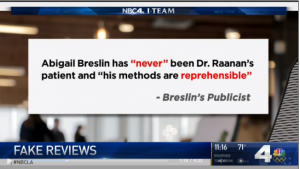 All of the GMB listings connect to the same website and use several of the same fake review profiles. I usually state a business has suspicious reviews to keep myself safe and avoid being sued for libel. However, in this case, I have concrete proof that these are whack-a-mole profiles that had previously been exposed and being fake. September 26th, 2017 Joel Grover at NBC Los Angeles confronted Dr. Rodney Raanan over his glowing 5-star reviews. Dr. Raanan was shown the review left by Zara Emily. Zara Emily was actually actress Abigail Breslin from Little Miss Sunshine. Ms. Breslin's representatives stated that the review left for Dr. Raanan was not left by Ms. Breslin. After the story aired the review and others disappeared. It turns out eight months ago, Zara Emily started posting new reviews. In fact, just yesterday Zara left a review for The Enclave at 6209 I-40, Amarillo, TX 79106.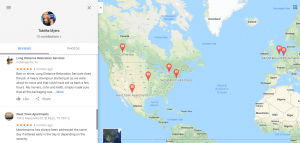 I know one review is not enough proof to say that these businesses have fake reviews. I found other questionable reviews too. There is the glowing review left by Tabitha Myers. The photo is actually of Ms. Myers who is now going by the name of Tabitha Lipkin. Ms. Lipkin is a sports report for Fox6 in San Diego. I reached to Ms. Lipkin and asked her if this was her profile and if she left the reviews, I was told no and she followed up with how can these reviews be reported. I provided her with that information.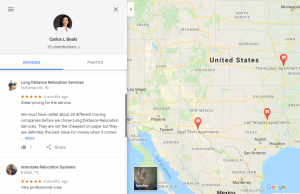 The next suspicious review I found was left by Angela O. Medford. The profile picture is that of New York State Senator Kirsten Gillibrand according to the reverse Google Image Search. I have reached out to Ms. Gillibrand's office for comment and have not heard back at the time of this write-up. There is also the reviews left by Michael Snow aka Morgan Spurlock from the documentary Super Size Me. I had reached out to Mr. Spurlock's office the first time I had found this profile and I have not heard back. This profile started posting reviews again 8 months ago. We next have the review left by Carlos L Beals. Carlos is also Facebook COO Sheryl Sandberg. The last time I had come across this user, the name used was Mercedes T. Spradlin. Ms. Spradlin had left a glowing review for Detroit Seafood Market. That review was taken down.
Last night, Friday, August 3rd, while I was out meeting up with a new friend for drinks. I arrived early and grabbed a table. He was running late so I jumped into the GMB forum to answer a few threads and I saw a user asking for help dealing with a company posting what they called fake reviews. Imagine my surprise when I discovered at the two threads were connected. I was seeing the same reviews for the three apartment complexes and the four moving companies. I am putting both threads together to work on getting the reviews removed. This round I am not powerless and needing to wait for a news story to air for Google to take action. I have the power to send the reviews directly to Google to get them removed. What I don't have the power to do is to get Google to change their policies. While I am happy that it no longer takes up to 3 months to get fake reviews removed, Google still needs to improve. Yelp this past week posted consumer alerts on 150 business with suspicious reviews. Those alerts remain for 90 days. That is punitive. While I know that Google doesn't want to do that, they have other options. They can suspend the listings that get reported with fake reviews. The first round can be a soft suspension or contact the business directly. I am sure if Google contacted the business, that would get them to stop. If the business keeps using fake review services, then the listing gets either a full suspension or does not show up in the map pack period. There are two different types of suspensions. a soft suspension is when access is taken away to manage a listing and the user has to get reinstated. The listing still shows up but as an unclaimed listing. Google could place a note stating that the listing has been suspended and a link to Google's TOS.
Google needs to find and identify the sellers of the fake reviews. If Google contacted the businesses with the report fake reviews and demanded the contact information of the vendor or service. Google could either contact them or sue them. That would put a major dent in the fake review problem but that would not do anything. Do you remember when you were a kid and you would make dams in the gutter to stop the flow of water? No matter how far into the street or how big a dam you made, the water would always find a way to get past the dam. That is the fake review industry. They will always find ways to work around any protections put into place. Something is better than nothing. Google needs to crank up the dial and get serious about fake listings and fake reviews.
Maybe one of the victims of the stolen identities will do something. While I know that Morgan Spurlock is currently dealing with his own issues, it would be nice if he made a documentary about the dangers of online reviews. The New York State Attorney General's office likes to take action and sue businesses with fake reviews, maybe Senator Gillibrand will ask them to look into this practice or bring it up with her colleagues and the rest of Congress. Facebook has been taking a beating over fake news and how their platform has been used to disrupt the election process. This would be an excellent time for Facebook and Ms. Sandberg to turn the attention over to Google. While the media has helped to get Google to some action and speed up the escalation process, maybe Congress can help expedite the sweeping changes that are needed. Until then, I will continue to report and flag suspicious and fake reviews. It beats the alternative of doing nothing. "The only thing necessary for the triumph of evil is for good men to do nothing." – Edmund Burke. I truly believe that.
A business owner asked me earlier in the week, "what your angle is – do you smear people then call their competitors to get money and profit?" When I am, not fighting spam, I like to watch tv. I used to watch the show Leverage and still watch the reruns. It is about a group of thieves banning together to do good and fight back against the bad guys. One episode as they were helping out a lady that had been victimized by a bad person she said, "I can't afford to pay you.' The main character Nate Ford replied back with, "we work on an alternative pay model." I find that by doing the right thing and helping people is more rewarding than making money deceiving people. A friend referred to me as "a black hat with morals." I get that the job of SEO is to get our websites and locations to get to the top of the search engine and map pack and to get customers to click on our properties. If you want to use spam links practices, that is fine. You run the risk of Google finding those links and penalizing your website. If you break the law and hack websites to inject links, then I draw the line there. Falsifying reviews is illegal and has devastating consequences for consumers. The fake reviews mask the real issues and dangers of using a company. It is also not fair to the business owners playing by rules.
I am not alone. There are more of us fighting spam that are not front and center and as vocal about it. We have all take up the charge of battling fake listings and reviews. There are consumers and business owner that continue to submit spam reports and work is never-ending. I was talking with a friend of mine about how these fake review profiles popped back up. She asked me if I felt discouraged. I told her I get inspiration and motivation from the wins. Every time I help out a consumer or business with fake reviews or get a fake listing removed, it keeps me going. The no's, are an even bigger motivating factor. I get the reminder that the war is not over. We have won many small battles and had several advancements, but we need to win more battles. As long as there is spam to fight, we will keep battling and we will have small victories and win some battles along the way. It takes time as the wheels of justice is slow and Rome wasn't built in a day.
My warning for businesses that engage in the practice of illegal review practices, you will get caught. That review contest of offer in exchange for reviews will be get outed. You will wish that only Google was alerted to the contest. I have seen upset consumers out business as part of their negative review. All of your reviews will be called into question. If you offer a TV or Ipad giveaway and you lose all of your reviews, was that really money well spent? I can think of better things to do for marketing with $200. If you are buying reviews, you will be on the hook and will subject to fines and a lawsuit by the FTC. You will need to add the fine to the amount of money to spent to acquire the fake reviews, which will be taken down.
This post has gotten rather long and I need to get back to escalating threads of ill-gotten reviews. They won't take care of themselves. I am seeing another business a Yeti cooler with 2 tickets to an event. At least these reviews won't come back from the dead. The threads keep coming, it never ends, but this is what I do.
Please follow and like us: