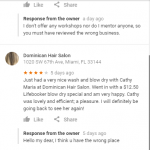 If I told you that I am witnessing 4-star reviews being used as negative reviews attacks on businesses, you would think I am crazy. I didn't believe it at first either. In fact, I ignored it when I first heard of it. I don't feel the same way anymore. I am a Google Top Contributor on the GMB forum where I volunteer my time helping business owners to respond to or help remove fake reviews. Two weeks, I was looking at the latest threads from business owners seeking help. I saw a wedding photographer post that he needed help removing a 4-star review. I need to apologize to this business owner as I thought that they were just being vain and only wanted a 5-star rating. The review was completely positive and said how wonderful he was. Who would not be happy with that type of a glowing review? The rub is that the review left by Marlene Hobbs was never a client. The review was left to bring down the rating. Since I can't go back in time to help on that thread and since this user helped to expose this new danger, please accept this link to your website: Austin wedding photography. Another TC, Ben Fisher, who offers White Label Local SEO services, jumped in and responded that there was no way that the review was going to be removed by Google since it didn't violate any known TOS. I kept note of this thread, like I do with a lot of threads, not knowing how it was going to play out again.
On Saturday, September 22, I saw a thread in which two different photographers were talking to each other about the identical situation. Two different photographers in two different states had random 4-star reviews posted for their Google My Business listing. I again was a skeptic. I figured that these two photographers were connected to each other and spoke on some other forum. When I looked at the reviews left for the Miami Beach photographer I saw the reviewer left another 4-star review for a business. The business replied that the user had left the review for the wrong salon. These two businesses are also in different states from our Austin photographer. We now have New York, New York, Miami Beach, and Austin, Texas. I replied to both threads and advised that I was going to pass this over to Google to investigate. I figured I was done and that no more threads were going to come in. I was so wrong.
Two more threads came in describing the exact same issue. There was another photographer in New York and one in San Francisco. I knew I needed to dive in deeper to these reviews, but was short on time. I made my notes of the five threads and links to the Google My Business listings to circle back. In the middle of the day, one of the reviews for the New York photographer was removed. The business owner posted the update on the thread. I can't say if it was the user who removed it or Google taking action. The next morning, I started putting together my notes and found that the second review was removed. We have three different 4-star reviews that have been removed in a two week period. I went to check out the rest of the businesses and their reviews and that is when I discovered that this was not just isolated to photographers and has been going on for months.
Thread 1
Thread 2
Thread 3
Thread 4
Thread 5
Where are the fake 4-star reviews coming from?
The reviewer's profiles connected me to two different companies, an air duct service in Costa Mesa, California and an appliance repair business in New York, New York.
DuctWerx
https://goo.gl/maps/kDz6vC2amvL2
(909) 726-7376
Best Wolf Appliance Repair
https://goo.gl/maps/G1G9NLHHsVM2
(347) 475-1596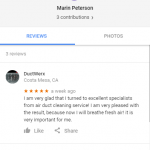 Both of the above businesses have nothing by 5-star reviews while their reviewers, leave 4-stars for other businesses. The following review from two years ago by Daisy Dana left a 4-star review for a cell phone repair business in Dallas, TX. Every reviewer for DuctWerx posted 4-star reviews for every business that they reviewed. The same is true for Best Wolf Appliance Repair. Best Wolf started receiving 5-star reviews five months ago whereas DuctWerx has been ongoing for over two years. Both businesses are SAB aka Service Area Businesses. The addresses are hidden as they don't serve customers at their location and travel to their client's home or business. I ran a whois check and both websites are using private whois. They don't want anybody knowing who is the registered owner. Both website set to noindex, nofollow. They are telling the search engines to ignore the websites as they do not want to be included in the search results. Both businesses have Yelp listings with nothing but 5-stars. Best Wolf has a picture of the owner posted, but a Google image search reveals that it is not William O. but of German economist: Oliver Marc Hartwich. Yelp shows that one reviewer checked in at the business too. That is odd since the customer stated that the tech showed up at their residence to repair their refrigerator.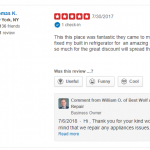 The Yelp reviews for both businesses date back to the summer of 2016. The oldest review for DuctWerx is from June 2016, whereas the oldest review for Best Wolf is from August 2016. I am curious as to why there aren't any Google reviews posted for Best Wolf longer than six months ago. I called the phone listed for DuctWerx and nobody answered. I was advised that the voicemail was disabled. I called the phone number for Best Wolf and got a call center. It appears that Best Wolf is a lead generation website and not a real business. A lead generation website is set up to get calls and sell the leads for a fee. This makes it impossible to track down and find the vendor responsible for the website and reviews that are being posted.
The sad fact is that real businesses are being destroyed due to a fake reviews being posted and bringing down their real ratings. I will submit both listings to Google and the reviews to be investigated and hopefully removed. I will be impossible to get a few of the reviews left for some of the photographers as it can't be proven that they are fake or being used to manipulate rankings. It is extremely difficult to trust 4-star reviews as even they are being faked. It will be interesting to see how Google and Yelp respond when I send over all of my notes and documents. A friend of mine did an entire write up on The Whacky World of Reviews: A 5 Star Spam Review "Attack", where businesses were receiving fake 5-star reviews. The reviews in question were removed as quickly as they were posted. It appears that spammers are no longer content with posting 1-star reviews to destroy or mess with business. Positive reviews now need to be questioned about the source and their legitimacy. Its not a great time to a be business owner or a consumer.
Update 10/5/2018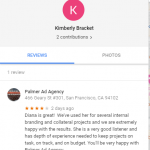 Thanks to the help from one of the photographers we found another piece of the puzzle. The reviews in question are being copied from old reviews left for other photographers. Only the employee names and businesses were changed. A quick Google search turned up the original review. Two of the reviews were lifted a photography directory website. We were able to use the links to the reviews as evidence and were able to get the reviews removed. While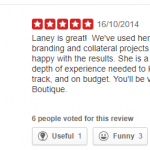 Google was able to remove the two fake reviews posted by Kimberly Bracket, they did not ban the account. Yes, you guessed it the user used the account and posted another fake negative review for a digital marketing company. A Google search turned up the original review left for another digital marketing company again in San Francisco. I reached out the digital agency to alert them to the fact that a competitor is attempting to bring down their rating. I also provided them with some advice on how to update their Google My Business listing and website. This pattern of abuse is reminiscent of this write up from June 2017 about fake reviews being posted for Starbucks. I am afraid I have only scratched the surface and that more businesses are being attacked as part of a stupid and illegal marketing strategy. I need to step up my game and find the company or vendor behind this scheme. Let some of the other review sellers, I will find them, expose them, and report them, but not before I make their clients uncomfortable.
Update December 2nd, 2018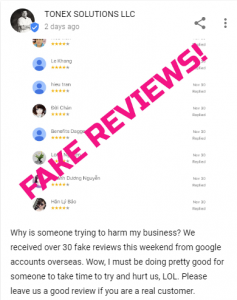 A new form of 4-star attacks started last Friday, November 30th, 2018. Businesses started to receive a slew of 4-star ratings. Several ratings were posted within minutes of each other. A few business owners reached out the GMB forum to ask for help. I noticed a pattern of abuse with the first reported case. At first, I chalked it up as an isolated attack. However a second, third and fourth business all reported the same thing. It turns out all of these businesses are being attacked by the same network. As of late Saturday night, the list has grown to seventeen businesses all being affected by this fake review attack. While I was getting ready to document case sixteen, a friend of mine reached out to me as his church was receiving a slew of fake 4-star only ratings. I didn't need to see the names of the reviewers to know that it was the same network. Another GMB Product Expert also saw two threads complaining about this same issue on the Global board. This brings the count up to nineteen reported cases with another possible two more waiting to be verified. I am unable to confirm their identity as they neglected to provide their business information.
Who are the reviewers?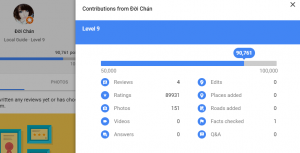 The review network appears to be using a program or API of some sort. The user profiles are posting thousands of ratings. One user, Setting Geyser has left 57783 star ratings. In total thirty-seven profiles in total are being used to post 4-star ratings on multiple businesses. The profile that left the least amount of ratings, left 51,388 ratings. The profile with most ratings left 88,957 ratings.  Over two million three seventy-eight thousand ratings have been left by these 27 profiles. An average of 64,000 rating is being left by each profile. Since Google doesn't have a tab to see the ratings a user leaves, I can not see how many businesses are being attacked. I am unable to find a pattern with my sample size. The other 4-star attacks were easier to identify as it was either isolated to photographers or a handful of businesses in San Diego.
These review attacks do not show any pattern, a church in Colorado, a car dealership in Tennessee, a hotel in Missouri and a general contractor in New Mexico. I would need to be able to see all of the businesses being targeted by these ratings for a better understanding of the purpose of the reviews. It appears to either be somebody either having fun or a possibly a dry run for the real reviews to be posted.
Google has been alerted to these profiles and will take action and will wipe out all of the reviews. The question remains, how soon will they be used again and at what frequency. If only Google would just ban the accounts, the program or user would know that there is an issue when they can't connect or log in. I seriously doubt that they even check the review profiles after they the ratings get posted or even care. Sadly real businesses are being affected by these attacks and are losing money while the ratings remain live. It would make for an awesome class action lawsuit or contacting the media to seek justice.
Update 12/8
Google has removed the 4-star ratings in question. Before Google, stepped in the spam review network had posted 3,002,747 4-star ratings in total. Between Monday and Tuesday, the profiles names started to get updated where really grumpy became Công Ty Thuốc Bảo Vệ Thực Vật Nam Nông. There is a more in-depth write up at 4 Star Google Reviews Attack that covered the name changes. So far there hasn't been any word of new attacks and the businesses in question haven't received any new attacks.
I keep getting asked the motive behind this and I have more questions than answers. Was it done out of boredom? Was it to gain notoriety? Was it done to get revenge on Google? Was it a dry run for a future attack or review service? Was it gain local guide points and levels? I don't know. I wish I knew the reason to explain why an average of eighty-one thousand 4-star ratings was left on over fifty thousand businesses. The motive won't matter if Google did not learn any lesson from this attack. Why would they, the media didn't take the story. I reached out to my contacts and other media contacts. The ratings have been removed but the users still have their points and ratings listed on their profile. The profiles were not deleted by Google. So far they haven't posted any new ratings. If they do, I am sure I will hear about it.
Please follow and like us: