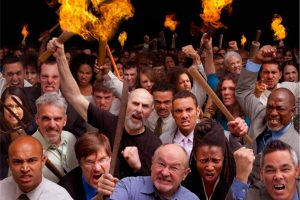 I was having lunch the other day with a colleague in the SEO space and we were talking life, clients marketing, and online reviews. If you know me or following me online you know I have a lot to say about reviews and the need to police it. I don't discuss politics as that doesn't work out very well on social media. Twitter is tough with a small number of characters or having to string multiple tweets together. I have also seen political discussion go off the rails and turn into name calling. One business was attacked with negative reviews when an employee had a major lapse in judgment and made a racist remark. I know that I am not going to answer the question on the 1st Amendment here. There are different opinions surrounding it. My colleague and I kept our conversation civil as I left it with where should people be able to voice their displeasure online with a business.

The Law Offices of Aaron M Schlossberg made national headlines when Mr. Schlossberg was caught on camera threating to call ICE after a store employee was overheard speaking Spanish with a customer. People on the internet reacted and proceed to post negative reviews on his Google My Business, Yelp, and Facebook listings. Yelp has an active monitoring program that deletes reviews tied into a business making the news in a negative way. Facebook is the Switzerland of platforms and doesn't do anything. His Facebook page has been hacked the owner of the page is posting racist rant videos. The page has a 1.1 rating based on 3,545 reviews. The Google listing had photos of mariachis, Mexican food and dog crap posted. User changed the category to Mexican Restuarant too. The Google listing is no longer found as it was announced that Mr. Schlossberg was being evicted.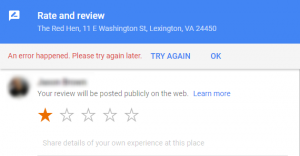 A few months later The Red Hen restaurant made national headlines after that asked Sarah Huckabee Sanders to leave. The people of the internet quickly started posting reviews to express their opinions. Google has locked down the listing from receiving reviews. I have no idea how long the review feature will remain on lockdown. Users are expressing their views by way of the Q&A feature. There is no warning of Yelp monitoring their reviews. The Facebook reviews have been turned off, which is a feature business owners manage on their own. A secondary Facebook page was created by another user and has a 1.9 rating based on 275 people. I found the page as it was recommended as a related page by Facebook.
The questions to ponder and discuss are the following, when and where should a user post their viewpoints? Should reviews be a way to express your opinions? Yelp and Google currently say no. Facebook has yet to address it. Is it every acceptable to post an opinion in a review? Dr. Walter Palmer still receives negative reviews 3 years after he made headlines for killing Cecil the Lion for sport. Is there ever a statute of limitations for when posting your opinion via online reviews, should end. Yelp is actively monitoring Dr. Palmer's listing. Google is not and is allowing reviews to be posted. Facebook is still doing nothing.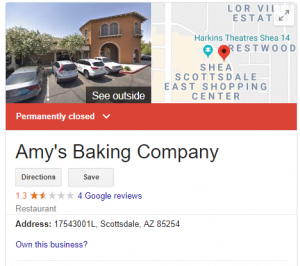 My personal favorite business to monitor is Amy's Baking Company. ABC made headlines after being featured on an episode of Gordon Ramsay's Kitchen Nightmares on May 10, 2013. In the episode the owner, Amy admitted taking the waitstaff's tips. The folks on the internet went to town voicing their displeasure over the practice. The Facebook page started posting colorful posts telling users where to go. The business claims that they were hacked and that it wasn't them. Meme's and videos depicting and trashing the owners quickly filled the internet and were covered by Buzzfeed. They closed 2 years later in Sept 2015. Google went in and deleted all of their reviews, however, four reviews have been posted this month.
When should a business be exposed for their opinions and views? Does it matter if they are pro LGBT or anti, racist, caught on camera mistreating an animal, taking a selfie at Auschwitz? Is there ever a right to be forgotten? A business was left a negative review because of the Google My business attribute of LGBT friendly. The user posted, "yeah I'll go somewhere that doesn't pander to pedophiles and sexual perverts." Should a business be left reviews for being pro or anti LGBT? Should the user be and his employer be left reviews over the comment?
What if the wrong business gets attacked? It is happening to Skyways Animal Hospital in St. Petersburg. Their clinic shares the same as the veterinarian in Ontario, Canada. They have dealt with negative review attacks that were meant for the other businesses. A friend of mine also receives their share of hate for sharing the same name of a person that wrote an anti-semitic post. This friend receives death threats via Twitter on a monthly basis. So far the company that they work for has not received any negative reviews offer the case of mistaken identity.
Please follow and like us: