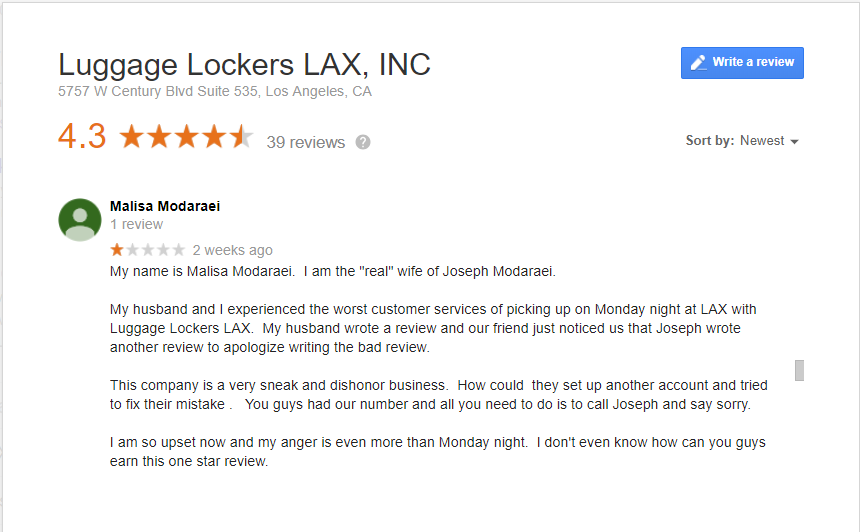 Should you use Luggage Lockers LAX, INC? I was alerted to check out their reviews by a friend of mine. At first glance, they have a 4.3 rating with 40 Google reviews. How many of their reviews are legitimate remains to be seen? The reason that I was asked to investigate their reviews is that a user, Malisa Modaraei is alleging that her husband's 5-star review is fake. Mrs. Modaraei claims that a second account was created using her husband's name and that the original 1-star Google review was removed. The alleged 5-star review paints the couple out as bigots that don't like "black" people. The timeline of the reviews is foggy. I know that both Mr. and Mrs. Modaraei left Yelp reviews on April 16th and the 17th. Yelp filtered out their reviews. Google shows that both reviews were posted two weeks ago. I have not been able to corroborate their story or claims.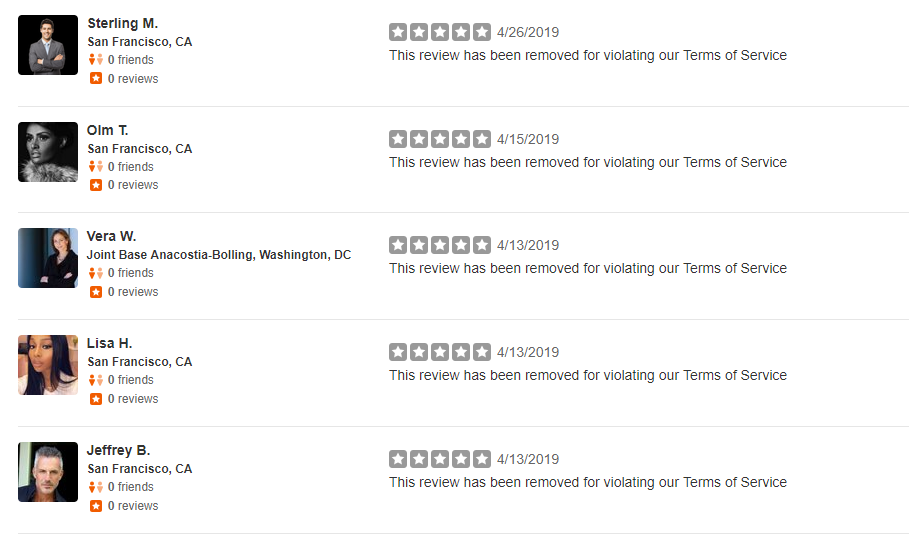 Suspicious Review Patterns
I did take a look at the rest of the Luggage Lockers LAX, INC. I found the same user's left reviews on Google and Yelp. Yelp has filtered out or removed a lot of reviews for violating their TOS. Only two out of the 26 reviews remain unfiltered on Yelp. Every review posted in April has been removed. Eight reviews were filtered out, whereas nine were removed for TOS violations. Jeffery Brown left two Google and two Yelp reviews. Both of his Yelp reviews were removed for TOS violations. It turns out that Mr. Brown is in fact model Dino Hillas. I reached out to Mr. Hillas for comment and have not heard back. Sterling Meade's image appears to be a stock photo image. Mr. Meade also had his Yelp review removed. Google shows a review from Lisa Hollings. That profile does not have a profile image. There is a Lisa H on Yelp with a profile image. That appears to be a stock photo image as well. Saul Rosenburg had his Yelp removed for TOS violations as well. The profile photos appear to be either a stock photo or Adam Kahil.

There a lot more red flags regarding Luggage Lockers LAX, INC online reviews. There are several similarities among the reviews. The negative reviews are suspicious and I am unable to verify them or their claims. However, positive reviews do appear to be manufactured. As a consumer, you might be better off going elsewhere as we can't recommend Luggage Lockers LAX, INC at 5757 W Century Blvd Suite 535, Los Angeles, CA 90045
Update May 6th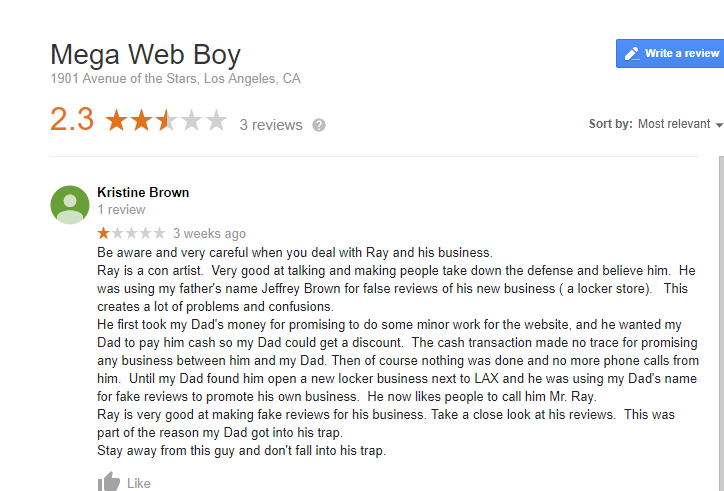 I decided to look up the web designer company, Mega Web Boy and see what type of reviews they have. Their LA address has a 2.3 rating with three reviews. The first review showing for most relevant is from Kristine Brown. Ms. Browns alleges that Mega Web Boy created a 'fake" review for Luggage Locker LAX, INC using her dad Jeffrey Brown's name. She claims that her dad was a customer of Mega Web Boy and not of Luggage Lockers LAX. It turned out that Mega Web Boy has a New York location too. Tashs Vicker's left 5-star reviews for both Google listings. The NY location received a review from a user by the name of PRO BONO LEGAL SERVICES. PRO BONO left a review for OLM THE AGENCY. OLM and Mega Web Boys share the same LA address of 1901 Avenue of the Stars. OLM received a 5-star reviewer from LowAir Fare. Luggage Lockers LAX has a filtered Yelp review from LowAir Fare and a user by the name of OLM T.
It appears that Mr. Ray Robinson is behind all three websites. All three are on the same server. Several reviewers reference Mr. Ray as he prefers to be called too. The review patterns seem to interconnect the five Google and two Yelp listings. OLM' New York Yelp listing has a review from Ashley H. that matches the same profile photo of Andrea Buchanan on the Luggage Locker LAX's Google listing. OLM's Yelp listing has reviews from two users with the same profile photo, Samatha P and Donna J. Both reviews were filtered out. Samantha signed her review as Samantha P. Pro Bono Legal Services NYC – DC. A user by the name of Pro Bono Legal Service left reviews for both OLM and Mega Web Boy's Google listings.

If you are looking for a ride from LAX, storage lockers, web design or modeling jobs, you might be better off going elsewhere.
Please follow and like us: