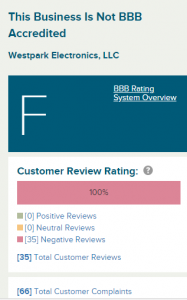 Before you make a purchase from Abe's of Maine of you need to look past their 3.5 Google rating and glowing reviews to see the full picture. We stumbled upon Abe's of Maine when we were collecting data another business with suspicious reviews. We added them to the New Jersey business state page and moved on. We decided to take a closer look and found that Abe's of Maine was covered in an NBC News story How to avoid online HDTV shopping scams  This article was from April 29th, 2012, a full 6 years to the date. Reporter Gary Merson referred to Abe's of Maine "as the poster child bad online dealers". This is review fraud so we will bypass their warranty claims address by Gary and focus on the reviews instead.
Abe's of Maine Google Reviews
Abe's of Maine currently has 650 Google reviews. Our question is how many of those reviews should not be trusted? The fact that Abe's of Maines is an online seller with a physical location made it a little harder to spot fake reviews, however, we kept digging and found some of the typical signs of fake reviews.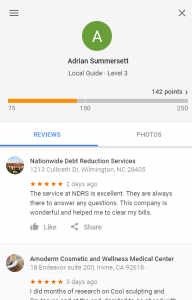 Aaron Thomas,  Adrian Summersett,  and Bridget bai all reviewed Nationwide Debt Reduction Services 1213 Culbreth Dr, Wilmington, NC 28405 and Abe's of Maine in the past month. We also uncovered shared reviews for Amoderm Cosmetic and Wellness Medical Center 18 Endeavor suite 200, Irvine, CA 92618 from both Bridget bai and Adrian Summersett. The profile for Gamers United reviewed Nationwide Debt Reduction Services and 3 rehab listings in Northern California. Open Wings is an apartment complex, Second Chance is hiding their address and Final Steps in a residential address. Krebs on Security published an article on the spam that is happening in the Rehab Industry where people are being paid to create fake listings as a way to generate call leads. The non-existent listings are also being left with fake 5-star reviews too.
Abe's of Maine BBB listings
Westpark Electronics, LLC DBA Abe's of Maine has an F rating with the BBB. The BBB notes that 24 out of the 66 complaints were closed in the past year. The BBB only keeps complaints for 3 years and then they expire. Abe's of Maine is averaging 2 closed complaints a month. 37 complaints were marked as either the complainant rejected to the solution or never reached back to the BBB and 8 complaints were ignored by Abe's of Maine.
Abe's of Maine Yelp Reviews

Abe's has two Yelp listings. The first one for their 5 Fernwood Ave Edison, NJ 08837 marked closed. It has a 2-star rating with 89 reviews. Yelp offered a link to the live listing and it also has a 2-star rating but has 309 reviews. Since 2014 Abe's of Maine has received 220 1 star reviews that Yelp has not filtered out. It is worth noting that one of the forty-three positive reviews from Jeff D.  purchase and identical tv, a Samsung 65 inch TV from Abe's of Maine in 2017 and a 65-inch curved UHD Samsung TV in 2014 from East Coast TVs 601 W Linden Ave Linden, NJ 07036. There is a filtered out 1-star review from Brad S. who called out Abe's of Maine, East Coast TV's and Joe's AV as "These are all companies that use a bait and switch practice". Both Abe's of Maine and East Coast TV's use private registration so that you can not see who owns either website. East Coast TV's has a 2-star rating with 191 reviews. 130 of their 191 reviews are all 1-star reviews.
If you are looking to purchase a TV, camera or any electronics from Abe's of Maine, you might want to look at their reviews carefully before you purchase from them. Reviewfraud does not recommend them as a business and suggests you shop elsewhere.
Please follow and like us: