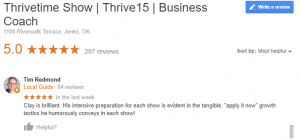 I was informed about Thrivetime Show | Thrive15 | Business Coach falsifying reviews by a friend of mine. I trust my friend and I also vetted the information myself. What I quickly discovered was a network of the same businesses in Tulsa/ Jenks Oklahoma all being reviewed over and over.
First we have the 84 reviews and 8 ratings from Local Guide Tim Redmond. Tim has left reviews for various lawyers, chiropractors, doctors and construction companies. Here is a handful of the business Tim reviewed:
Elephant In The Room Men's Grooming Lounge
1730 S Boston Ave Suite A, Tulsa, OK 74119
ENT Tulsa | Dr. Scott Cordray of Tulsa ENT | Ears, Nose, and Throat, Inc.
2448 E 81st St # 1350, Tulsa, OK 74137
Victory Church
7700 S Lewis Ave, Tulsa, OK 74136
Anchor Financial Group | Tulsa Insurance Agency
10810 E 45th St, Tulsa, OK 74146 –
We noticed the reviews from Brian Gibson where Victory Church and Elephant In The Room Men's Grooming Lounge were both reviewed by him. There is the reviews by Garett Bryan whom also reviews Anchor Financial Group along with Extra Myle of Jenks Personal Training and Tip Top K9 as did Carter Watts. The list goes on and one with several of the same businesses being reviewed over and over. Recent Dr. Chad Edwards contact me to state that he did not have fake reviews and that I needed a better vetting process. He has reviews from Jonathan Kelly and Mr. Click . Mr. Kelly left reviews for Extra Myle personal trainers, Extra Myle Tulsa Real Estate Photography and Extra Myle Computer Repair along with Thrivetime Show. Mr. Click left reviews for Elephant in the Room and Score Basketball camps. In fact, Mark Burgess left reviews for Score Basketball Camps, Elephant in the room, Cale Law Office of Tulsa Criminal Defense, Nook & Cranny Homekeeping and Trinity Employment Specialists. It is interesting how a lot of these reviewers all never leave the Tulsa area unless they visit Chicago Real Estate Photography in Chicago, Il, the DelRicht Research in New Orleans, LA or Peak Medical Technologies or Kvell Fitness in Boise, ID.
One of the reviewers Stephan Cale is a criminal lawyer doing his best impression of Saul Goodman by posting reviews for the following businesses, Elephant in the Room, TipTop K9, Nook & Cranny Homekeeping and Trinity Employment Specialists. Mr. Cale may need his own lawyer to represent himself against criminal charges or to plead his case with the bar association.
Thrivetime claims to over 13 step to a successful business in a 2-day workshop. I wonder if one of those steps is fake reviews, that is what my friend mentioned as he joked about signing me up. Whatever it is they are selling, I am not buying. In fact, their website traffic has flat-lined at 261 monthly visits with nonsearchable terms. They are not ranking for any business coach terms. I'd suggest running away from their advice because if they offer you fake reviews or to exchange reviews, it is more harmful than good.
Thrivetime Show | Thrive15 | Business Coach
1100 Riverwalk Terrace, Jenks, OK 74037
Please follow and like us: