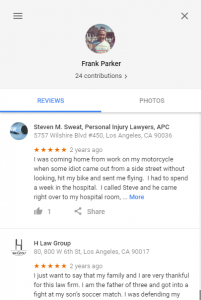 The H Law Group and Nima Haddadi have five Google My Business listings in Southern California and mostly with 5-star ratings, but how many of those listings and reviews are legitimate. Only one out of the 4 listings does not have a single review posted. That is the GMB listing in Encino. 16133 Ventura Blvd, Encino, CA 91436. That address is a virtual office using Davinci Meeting Rooms. Businesses use and create virtual offices in order to expand their web presence in cities where they don't have a physical brick and mortar office. Law firms use virtual offices a lot to help them rank in different cities.
The next listing for The H Law Group is in San Diego. That address is 501 West Broadway #800, San Diego, CA and yes it guessed it, they are using a virtual office. They are renting space from Regus. What is more alarming about this listing is the reviews from Cortney Cowen and Sebastian Koepp. Poor Cortney has had a lot of issues with her appearance as she has need plastic surgery, help with her acne and need two different dentists. Last week she needed her garage door repaired in Renton, WA. It appears that she has moved out of Los Angeles. Wait a minute, she managed to leave one review in San Diego for The H Law Group. She magically left reviews for Treebark Termite and Pest Control and Box-n-Go Storage as did Sebastian. Sebastian also had a DUI in San Diego while the rest of his reviews are for LA area businesses.
The next The H Law Group is located at 155 N Lake Ave #800, Pasadena, CA 91101. That too is using a Regus Virtual Office. This listing only has one review from 3 years ago. The same is true for the Irvine listing, 7545 Irvine Center Dr, Irvine, CA 92618. That is also a Regus location. This listing only has one review from three years ago as well.
The H law Group Los Angeles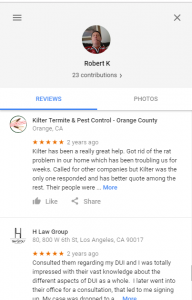 The main and their real location for The H Law Group is located at 800 W 6th St, Los Angeles, CA 90017. This is not a virtual office and they actually physically occupy this space. The reviews raise several red flags. There is the following reviewer: Henry Orton who have left reviews for Treebark Termite and Pest Control and has needed two lawyer and two garage repair companies. Alan Thorn was charged for a DUI and also needed to use a termite company while posting one review for a restaurant in the UK. Do all people that get DUI's need termite services for their homes or do they drink and drive to deal with the stress of dealing with the pests. There is also the review by Frank Parker who recently had patio work done in Tualatin, Oregon. Frank also used Treebark Termite and Pest Control and a total of 5 different lawyers in Los Angeles including the Law Offices of Jacob Emrami.If you are from So Cal, you have heard or seen or his commercials and billboards around town.
It does appear that The H Law Group has some rather questionable reviews. You would have better odds of winning the lottery while being struck by lightning while a shark attacks you than having these many people leave reviews for the same businesses among different profiles.
Please follow and like us: