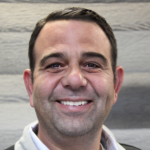 Supreme Remodeling in Van Nuys called to let me know that they had contractors in my neighborhood the other day. Here I was sitting at work and my phone rang. It was an unknown called based on the caller id on my cell phone. I decided to answer and entertain the caller. The started off asking for the previous owner of my phone number. I have had my number for over 3 years now. They asked for Mr. Valdez and I said yes. The caller quickly informed me that they had workers in my area and wanted to stop by. I quickly asked for the name of the company. I was told it was Supreme Remodeling in San Dimas/ Diamond Bar. I had already performed my Google search and determined they were in fact in Van Nuys. The gentleman I spoke with told me, "actually, we are located in Van Nuys too." I informed the caller I wasn't interested as I had all I needed. I quickly checked out their reviews. The 3rd most recent review stated, "Buyer beware! They pay people to post fake reviews on yelp. STAY AWAY!" I was now all in. I had to see if the company that was violating consumer laws regarding telemarketing, spoofing the number and calling a cell phone also have fake reviews.
Supreme Remodeling's Google reviews:
The first thing I quickly noticed was the positive reviews posted this year. Five out of the six reviewers never left any other reviews. They also use the default color circle with their first initial for their first name. The one review that has last other additional reviews,  Nene HZ is no stranger to remodeling companies. Nene left 5-star reviews for 2 other remodeling companies in the San Fernando Valley. They are:
American Home Improvement Inc. 20335 Ventura Blvd, Woodland Hills, CA 91364
Hi Tech Remodeling 23679 Calabasas Rd #1101, Calabasas, CA 91302
The first reviews I looked at for American Home Improvement, Iman Nohahal had their kitchen remodeled twice in under 2 years by 2 different companies in the Valley.  They have been reviewed by Julie Abbou whom also reviewed, Hi Tech Remodeling. There is something going here with these business and the reviewers.
Supreme Remodeling Yelp Listing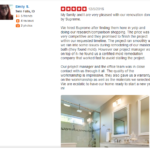 I decided to take a look at Supreme Remodeling's Yelp listing. The images from the negative reviews show shoddy work and major issues with the quality of work. In fact, Yelp shows that their ratings have been declining over the course of this year from 4.5 to 3.5. I took a closer look at the positive reviews and the ones that posted photo "proof" of work done. I have the review from Emily S from Twin Falls, ID. All of her reviews were posted in a 3 day period and nothing since then. I performed a Google search on her "newly remodeled bathroom" and discovered that another company in Portland, Or actually did the work and help stage the house for photos to be taken when it went on sale.
The next reviewer I looked at was Carlos B. He had his bathroom remodeled. His bathroom was so well done, I was able to find it on countless remodeling websites. I went to all 13 pages in Google and could not determine the owner of the photo. There is also the review from poor Shelley C whose house was such an ugly eye sore, that construction companies kept trying to get her to remodel her home. She was so appreciative of Micheal that she posted a photo of him. The photo in questions turns out to be composer Terry Trotter.
That was just the handful of reviewers that posted photos that I checked. I looked at 5 reviewers that posted photos and 3 out of 5 appear to have never had any work performed by Supreme Remodeling. The reviewers that didn't post images of work being done look suspicious too. There is the review from Ginger D. Ginger need a home loan in Bend Oregon. That was her only out of state review. Its an out of place and random review. She also needed her travertine stripped, cleaned, and polished by a company in Palm Springs. Palms Springs is 105 miles away from Downey where Ginger lives. There is also Deborah R. who had 2 companies come out on Super Bowl Sunday to measure her countertop and they both did the install!!!!
I recommend that when Supreme Remodeling calls you, that you hang up. I have a feeling that you will be better off going with another company.
Please follow and like us: