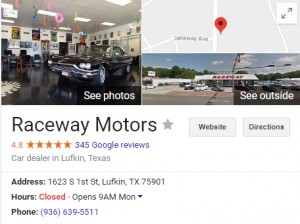 I stumbled upon a complaint that Raceway Motors in Lufkin, Texas was not only incentivising for for positive reviews, but they were giving step by step instructions on how to post the reviews. It seems that they only cared about Google and Yahoo reviews. Raceway Motors currently has 345 reviews and a 4.8 rating with Google, but how many of those positive reviews are legitimate? They have 10 2 star or lower ratings in the last 3 years with 7 in the past 2 years.
The claim is that when you buy a used car, Raceway Motors supplies the customer with a folder include the offer for the free oil change with 2 excellent reviews. The flier clearly states a Google and Yahoo review is needed to qualify for the offer. Amanda Balavitch became upset over her experience with purchasing a used car with Raceway Motors that she started exposing them for this illegal and deceitful practice. Amanda created the following Youtube video to vent and expose Raceway's practice and educate consumers that this is illegal. I am super impressed that Amanda even quoted the FTC's policy on incentives reviews. Amanda was lucky enough to get Raceway Motors to buy her vehicle back and walk away.
Time will tell if and when Google steps in and removes the reviews and how many get wiped out. Since there are no dates for Google to tell when this illegal practice was started, Google will need to make a judgment call on how many reviews to remove.
The moral of the story is, if you attempt to skirt the policies on reviews, you will get caught and exposed by an unhappy customer and that is exactly what has transpired for Raceway Motors. There will be more updates coming and I will update this post with all developments.
Raceway Motors
1623 S 1st St, Lufkin, TX 75901
Please follow and like us: