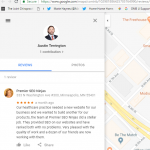 Premier SEO Ninjas reached out to ReviewFraud to advise that they were listed on the wrong page and were inadvertently added by mistake. They were half correct, they were added to the Mississippi page and not the Minnesota page. They were incorrect that they were added by mistake. One of their reviewers left a review for a business(es) that were identified to have suspicious reviews. I attempted to dialogue with Elizabeth Engen, which turn out to be pointless and a waste of my time. I supplied three screenshots showing suspicious reviews. One review was posted on her Google My Business listing and two reviews that were posted on her Facebook listing. I supplied the photo proof as Ms. Engen was threatening a lawsuit for damages if Premier SEO Ninjas was not removed from Review Fraud. Elizabeth admitted that she refused to check out the photo evidence.
I also refuted the video testimonials which were purchased on Fivver. I took issue with John's reviews. You see John is claiming to be a chiropractor while wearing a lab coat and stethoscope. I know countless chiropractors and visited a few, they never wear a lab coat or use a stethoscope. Elizabeth Engen advised me that "my chiropractor wears a lab coat on occasion and sometimes uses a stethoscope." She did admit that the following: "yes that was an actor that used a written recommendation from our real client." Nowhere in the video does it state that this in actor. Maybe Elizabeth should read up on the FTC rules governing promotional testimonials.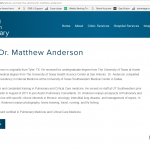 I decided to take a second pass or dig in deeper to Premier SEO Ninja's reviews. I wasn't even shocked to find an issue with Austin Terrington's Google My Business review. A reverse image search shows the image belongs to Dr. Matthew Anderson. I found similar issues with other Google reviews. Two of the reviewers are using stock images thanks again to reverse Google image searches. If Ms. Elizabeth Engen of Premier SEO Ninjas really wants to sue me, she has every right to do so. She will lose the lawsuit, just like she jeopardizes here Google Partner status. Time will tell how this plays out. I will update when status updates become available.
Please follow and like us: