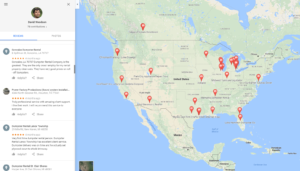 Power Factory Productions has a 5-star rating with Google, but can you trust that rating. We first discovered Power Factory Productions when we are looking at Student Loan Relief, INC. Both businesses were reviewed by David Woodson.  Mr. Woodson also reviewed Russ Darrow Honda in Milwaukee, WI, Russ Darrow Toyota in West Bend, WI, and Russ Darrow Mazda of Milwaukee. David has needed 16 Dumpster Rentals, various appliances repair, several dryer vents cleaned and few tows in the just the past year. When Mr. Woodson is not busy having his windows replaced in Canada, he is generously donating his cars to charity. David has a lot of money to burn as he had to get married in Italy. Will Mrs. Woodson curb the spending? While it only takes 1 fake review to get into trouble it takes several fake reviews to be listed here.
Power Factory Productions Fake Reviewers
Troy of Power Factory Productions contacted me and advised me if I continued to list his company he would contact his Attorney General as he has no fake information. Am I supposed to believe him or my lying eyes? Mr. Woodson begs to differ as do, Sharing Video, Tanner Weaver, alexandra barnett and Shane Wall. There are several clear patterns between the businesses being reviewed. For starters, several of the businesses are spamming their business listings names by adding keywords to their name. These same businesses are all in the Houston area too. There is a clear pattern of the same bad advice being passed back and forth. This is a clear network of fake reviews and spam with Google listings.
The businesses are as follows:
Window Cleaning Company Houston (Window Washing Company)
Sooner Done Septic Pumping, Inc (septic tank pumping near me)
Eclipse Whitening(Best Teeth Whitening System in Houston/Houston Teeth Whitening Kit)
Monks Law Firm (traffic ticket Attorney Houston)
V.A.P. Appliance Repair Services (refrigerator repairs Houston)
Houston Admiral Air Conditioning and Heating (AC Repair Spring TX)
Dynamic Door & Specialty(restroom partition hardware#1/ commercial door and hardware#2)
Dogs Day Inn Pet Resort
Dogs Day Inn Pet Resort – Kingwood TX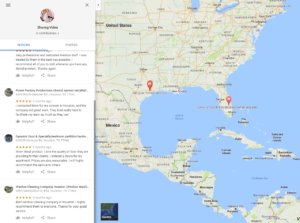 Sharing Video, I can't even keep a straight face with this name, has left reviews for Dynamic Door & Specialty and Window Cleaning Company Houston. That looks legit on the surface, however, we found reviews from John Hoppper, who left a review for JD Byrider and Rosanne Nash. There are also the reviews for Window Cleaning Company Houston from Carmelo Gutierrez who reviewed both Sooner Done Septic Pumping, Inc and Window Cleaning Company Houston. Sooner Done and Power Factory Productions were both reviewed by Reindeer Solid.
There is a clear pattern of reviewers reviewing several of the same businesses. If you are in the market for a sound system installation company, you should look for a different company and as we do not recommend Power Factory Production in Houston, Texas as their reviews do not appear to be legitimate or from actual customers. Hopefully, Troy will take my advice and build a new website and work on real SEO strategies as reviews are the ranking factor and driving force in SEO. Time will tell.
Please follow and like us: