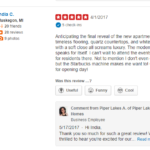 Piper Lakes Apartment Homes ran a review contest to solicit reviews. They sent out an email on December 14, 2017, advising residents to post a review online to be entered into a raffle. It is illegal to incentives for reviews. It is against the TOS for all review websites and Yelp has explicitly stated not ask for reviews. I tried to be nice and advise the staff at Piper Lakes Apartment Homes but the communication was pointless. At first, I received a "we were unaware and we will resolve it". The next email asked me how I got the personal email and how I can be contacted. I provided them with my phone number and waited for a call, it never came.
I decided to take a look at the reviews after not receiving a call or an email canceling the contest. It turns out that the person I had been emailing, India Clanton left reviews for Piper Lakes on Google and Yelp. The Yelp review she thanked herself for the review. She used a picture of herself as the manager. I contacted her and pointed this out and she advised that she lived there too. I decided to add them to the website.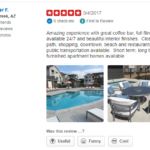 I had no intentions of creating a full post until my conversation with Heather Fuller. She is India's boss. Heather advised me that she was unaware that what they did was wrong. What I found odd and super frustrating was some of her questions and statements. She wanted to know who was employing me for the website. I told her this my side project and I do it pro bono to protect consumers and businesses. She wanted to know whom she was hurting with the contest and reviews. I need to point out a few details I found out after the call. Heather and her husband Greg Fuller left Yelp reviews, while Heather also left Google and Facebook reviews. Heather also wanted to know who complained and shared the email as she wants them to move out. Yes, she wants the person that complained about the contest to move out! She said, "I don't want anybody that unhappy be living here and they need to move out."
The damage is done as 3 Facebook, 1 Yelp and 16 Google reviews have been posted this week. They have also replied to and thank a few of the Google reviews too.  Yelp filtered out and removed 4 reviews they don't recommend or meet their review criteria. Time will tell if the Google or Facebook reviews get removed. I do know that I will not be speaking with Heather, India or anybody else from Piper Lakes Apartment Homes ever again as it is not worth my time and energy.
Please follow and like us: