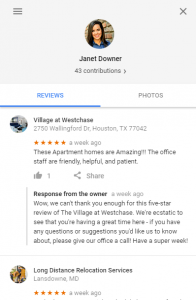 Did Opulent Real Estate Group LLC start offering Online Reputation Mangement services for their clients? A was alerted to the fact that 5 apartment complexes had received a slew of new reviews in the past week. I looked into the 5 apartment complexes that were listed and I found review profiles that I had already identified as being fake. I took it a step further and I was able to identify some of the users whose images or names were being used. I contacted Tabaith Myers and she advised me that the reviews were not hers. I found other profiles that I was able to connect back to reviews that had been posted to Dr. Rodney Raanan Google My Business listing as exposed by Joel Grover of NBC Los Angeles. I started compiling my list of the suspicious reviews and found that several of the reviewers had left reviews for Opulent Real Estate Group LLC at 5320 N 16th St #201, Phoenix, AZ 85016. I kept a log of the reviews and quickly went from 5 apartment complexes to a dozen.
Apartment complexes with shared reviews:
Preserve Piney Point
8740 Westheimer Rd, Houston, TX 77063
Village at Westchase
2750 Wallingford Dr, Houston, TX 77042
Commons at Westchase
10751 Meadowglen Ln, Houston, TX 77042
West Town Apartments
734 S Mesa Hills Dr, El Paso, TX 79912
Stone Oak Apartments
3151 Jennings Rd # 3, Independence, MO 64055
The Hudson Apartment Homes
1401 S Cunningham Ave, Independence, MO 64050
Ashford Aberdeen Apartments
3400 Woodchase Dr, Houston, TX 77042
Scottsdale Highlands Apartments
15255 N Frank Lloyd Wright Blvd, Scottsdale, AZ 85260
Cardinal Oaks
1280 Saxe St, Beaumont, TX 77705
Autumn Oaks
3190 Eastex Fwy, Beaumont, TX 77703
The Enclave
6209 I-40, Amarillo, TX 79106
The Links at Parkville
11107 NW Lema Dr, Parkville, MO 64152
The above-listed complexes are extremely poorly rated. It does not appear that the 5-star reviews are helping out any. In fact, the glowing reviews are having the opposite effect. Users are publicly calling out the glowing reviews as being fake. Opulent Real Estate Group LLC was called out by a user for having fake reviews. The review was replied to by addressing the user as Dear Fake Reviewer and claiming the user was guilty of creating fake profiles to trash the company. The user pointed out the reviewers are posting reviews in Canada, Poland, Australia and in the UK. It will take me a full 2 days to document all of the suspicious reviews. Each time I click on a profile I find a new complex to add to the list.
I have reached out to Opulent Real Estate Group LLC for a comment regarding these reviews. With the way that Opulent Real Estate Group LLC is responding to the negative reviews and claiming that they are fake reviews, I don't feel that Opulent would be honest with me if they choose to respond. Instead, I will Google decide with they are legitimate reviews and need to remain live. I will let users be the judge:
Preserve Piney Point 8740 Westheimer Rd, Houston, TX 77063 has a review left by Robert John who happens to be using the profile picture of actor Robert John Burke. There was no hiding this identity. Robert also posted reviews for The Enclave and Autumn Oaks
Reviewer Sara Maria, aka Indian Actress Soumya Seth posted reviews for Glen Oaks and Commons at Westchase. Ms. Sara also posted reviews for several moving companies as previously exposed with fake reviews. Even Janet Downer aka Whitney Miller winner of Masterchef posted a review for Village at Wolfchase.
The Google reviews will get taken down and the overall ratings for the above-mentioned location will decrease. Somebody should come up with a plan of attack to mitigate more negative review from happening. Until to reason behind the negative reviews is corrected, it will only get worse. Hopefully, prospective clients will see this and choose to move in elsewhere.
Please follow and like us: