Have you heard of Oncabs or Flitways? I never had and when I first spotted them in the network of intertwined reviews, I assumed they were a small-time cab service. I was shocked to learn that have 54 locations from Los Angeles to New York. They are also a publicly traded company with regular SEC filings. Flitways has an app where you can schedule a cab ride to pick you up. Yes, its Uber for Taxis. Taxi cabs are regulated by the government while Uber is not.
When I first discovered Oncabs Houston, I added them to my list and moved. I had bigger fish to fry. While I was looking into the reviews for Northwest Movers, I started noticing different listings for Oncabs. I discovered that 8 of the Oncabs locations were all interconnected to Northwest Movers via a least 1 reviewer; Houston, Irvine, San Antonio, Nashville, St Louis, West Palm Beach, Phoenix, and Memphis.
I took a look at the complaints against them and the overwhelming theme was rides being canceled or not showing up as promised. There were a few reviews that stated that they were still charged when they needed to find another ride after their fare was canceled. So which reviews do we trust the negative ones of the positive reviews?
Oncabs 54 listed locations: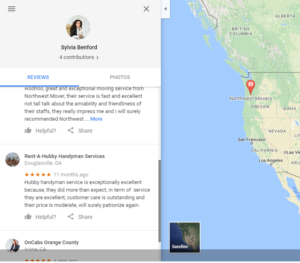 I took a look at all 54 locations and I have determined that 42 locations have fake reviews. I noticed that several locations shared reviews with Dynamic Chiropractic Center in Seattle. AVPI in D.C. Nature's Own, OCSEO, Nucoat Painting in Pasadena CA, and Hate Painting in Florida. Several of the reviewers only left a few reviews and they were for multiple Oncabs locations. Even the Flitways corporate office in Culver City received a review from Christy Brown whom also review Nature's Own Pest in San Antonio.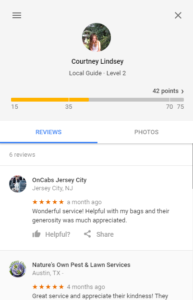 I reached out to Flitways for a comment about this and I have not received a reply at the time of this posting. I have not posted the all of the screenshots as there are too many to post.
Flitways
400 Corporate Pointe #300
Culver City, CA 90230
Please follow and like us: