On the surface Nature's Own Pest & Lawn Services looks like a great company to choose for your pest control needs. The have 4 locations to in Texas to serve you, San Antonio, Dallas, Katy, and Austin. The San Antonio location has 4.7 rating with 138 ratings with Google as of July, 6th, 2017. The Austin location also has a 4.7 rating but they have 191 Google reviews as of July, 6th, 2017. The Dallas location is slightly rated higher with a 4.8 rating and 112 Google reviews as of July, 6th, 2017. The Houston location has another 4.7 rating with 113 Google reviews as of July, 6th, 2017. So on the surface Nature's Own Pest & Lawn Services looks like the ideal company to contract. We dove further to see if the reviews were organic and fake.
Nature's Own Pest & Lawn Services San Antonio. There are several complaints about a lack of service or the company not bothering to show up at all. The glowing 5-star reviews all paint a different picture. So, what is the real story? When we looked into the reviews we found some clear patterns of the same businesses being reviewed over and over. For example, Sarah Murphy used Discount on Tires in Canada just like William Raines, whom also reviewed Student Loan Relief in Dallas, Texas. Sarah also reviewed Sunrise INN in Daytona, Florida just like Ladychainchomp did.  We also have Jason Elmore and his reviews Jason did review also review Student Loan Relief as well. We have Frank Smith who left reviews Russ Darrow Honda and JD Byrider. We also have reviews for Dynamic Chiropractic Clinic in Seattle by Teresa Wallace along with Dulce Garmon.
Next, we checked out Nature's Own Pest & Lawn Service Dallas Tx also has some interesting reviews. Take, for example, Lance Allen, Lance reviewed our friends Northwest Movers and Nature's Own Chimney Cleaning in Katy, TX. Even Antonio Caldwell reviewed Northwest Movers. Let us not ignore Nina Morrison whom also reviewed Northwest Movers in Portland. We also have Wayne Pinik who review  Dynamic Chiropractic Clinic in Seattle. We also Robert E Jordan whom needed a new air conditioner in Tallahassee, Florida. It turns out Mr. Jordan is actually actor Ben Barnes. We also have Mohes Ghran who is an avid skydiver in Dallas, Texas,  Akron, Ohio,  and Biloxi, MS and also used Student Loan Relief too. We also have Zachary Neal who splits his time between the entire eastern seaborne or California whom made one trip to Texas and need the services of Nature's Own.
Nature's Own Pest & Lawn Service Katy, TX We notice the first review will multiple reviews is Gray Brett who reviewed Russ Darrow Toyota, Russ Darrow Mazda of Milwaukee and JD Byrider in Madison and Green Bay, Wisconsin. We have Billy Walters who reviews Movers & CO in Lancaster, PA. Movers  & Co was reviewed by both Sarah Murphy and Jason Elmore. In fact, Seth Bok who reviewed Movers & Co also reviewed Nature's own in Austin when they were not too busy traveling to Singapore, Australia and The Dubai. We also have Md. Nahid alamin whom also visited Singapore and Australia. Let us not ignore Christine Golden whom used Northwest Movers and needed her chimney cleaned by Nature's Own Chimney cleaning in Houston, TX.
Nature's Own Pest & Lawn Service Austin, Tx Richard Giff just happened to review our friends Northwest Movers a year ago. We are seeing several reviews for Try Burger in Nice, France like the review from Rosalina Roberts In Jason Elmore, Riley Michelle, and Benny Roberts all reviewed them. We also have Richard L Melton whom also reviewed Geek ABC in Springfield, Virginia just like Gray Brett Jhon Miller, Mika Buell and Julia Brenner.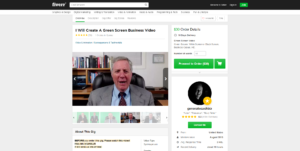 We took a look at their own website and found 2 video testimonials. The one on the right of the gentleman we were able to find listing his services on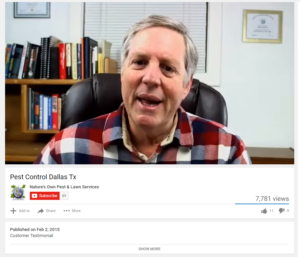 Fiverr under the screenname Generatecashbiz. We reached out the web design company and were advised that she had nothing to do with it. Our inquiry with Nature's Own has not been replied too yet.  If you are going to need pest control, lawn services or chimney sweeping, you might want to look for another company instead of as the reviews do not appear to be organic reviews.
Please follow and like us: