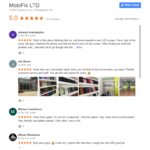 While I was checking out the Google My Business forum this morning I saw a post for help where a business owner was complaining about receiving a negative review. The owner claims the reviewer in question is a fake person and not a customer of his store. The reviewer in question: Melissa Castellanos not only appears to be fake also left a 5 star review for a competitor Mobifix, LTD. As it turns out Mobifix, LTD has received 15 5 star reviews in the last week. This is extremely high for a business that does not even have a website. The website listed for GMB is m.facebook.com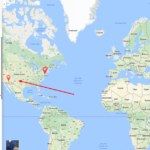 A quick check of the reviewers profile uncover a few similarities. 4 of the reviewers also reviewed Cell Doc – Franklin Mills Phone Repair. Two the reviewers also left negative reviews for the same business that complained about a false negative review. The 4 reviewers are:
Bakhtiyor Muratov
Joanna Chen
umarqul mamatqulov
Jon Konor
In fact Jon Konor was also supplied with photos to use for the review left. Jon has left reviews for several phone repair businesses across the United States and left 1 review in Tajikistan.  2 of the reviews left were for 2 different competitors and of course were 1 star negative reviews.
I contacted Mobifix LTD to ask them about the reviews in question and have not heard back yet. Its one thing to pay for or post glowing reviews for your own business, but you cross a major line you appear to be posting negative reviews against for a competitor. It is illegal to post any type of fake review. Its beyond reprehensible to engage in posting fake negative reviews for a competitor.
Since Google will not be able to remove the 2 negative reviews, I advised the owner to contact the FTC and file a complaint as the business appears to be posting fake 5 star reviews and appears to have post 2 negative reviews for his businesses. We will keep monitoring this story and the businesses in question.
UPDATE 5/10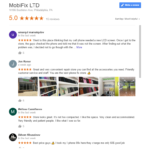 14 out of the 15 fake reviews all were marked as helpful 1 to 6 times. It appears the owner of the profiles is logging into the email account and marking one or several of the reviews as helpful. I have yet to hear back from the owner of the businesses.
Please follow and like us: