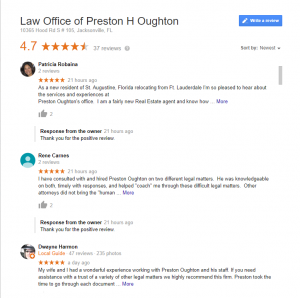 I was preparing to head off to lunch when an email hit my inbox. NBC Jacksonville reporter Ken Amaro asked me if there was any way to verify reviews. Basically, he wanted to know if there was a way to determine if they are real. He said he was working on a story in which a lawyer was complaining about being attacked with fake negative reviews. I emailed back and asked for the name of the law firm to see if I could offer my assistance. The firm in question is the Law Office of Preston H. Oughton.

I looked it up on Google and started looking into their reviews. I first looked at the three negative reviews. The first thing I noticed was that the three reviews were left in different months. I couldn't identify any of the obvious spam signals to suggest that something sinister was happening. I did notice a pattern in the latest round of positive reviews. I counted 20 positive reviews posted in the past week. This is not a clear sign of abuse as Mr. Oughton could be using a review solicitation service. I did find the Law Office of Preston H Oughton with a Birdeye listing.

Birdeye is a review solicitation service in which the business owner supplies their client's contact information. The platform sends out a survey and asks the user to post a review online. It appears someone is being overzealous with their review requests. The GMB listing now has amassed 31 positive reviews this week. Each positive review has received a minimum of 2 likes as well, which is unusual for the time frame.

This is not a great strategy by Mr. Oughton. Typical users will not only look at the time frame that the reviews were left — in this case, clustered together — but they will notice the likes. Potential clients will be more inclined to become suspicious of this law firm and their glowing reviews.

I waited for the story to be broadcast and watched it when it was posted online. I was not prepared to hear that Mr. Oughton admitted that he asked his work colleagues to post positive reviews to offset the negative reviews. Mike Blumenthal called him out on Twitter for "violating FTC endorsement guidelines." It is my opinion that Mr. Oughton should appear in front of the State Bar to address his behavior.

Please follow and like us: