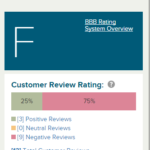 Jimmy Z Appliance Services has 2 actions against them by from the BBB. On May 26, 2016, the BBB contacted Jimmy Z re advertising claims listed on their website. Three days later the BBB issued another action for a pattern of complaints being filed against them. Jimmy Z has yet to respond to the BBB. They also have an F rating with 16 complaints filed against them. They also have 12 reviews on the BBB with nine being negative. The three positive reviews came in July and August 2017.
Fake Reviews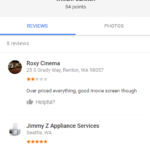 Since this is review fraud, let's dive into their fake glowing reviews. Jimmy Z has 4.0 rating with 60 reviews. The latest review came with the week of September 30th, 2107 and is from William Gunston with his image a cute dog. William is a fan of Payless Foundation Repair, San Antonio, Texas, Nicks Plumbing in Houston, Texas, and Quality Appliance Service in West Valley City, Utah. He also hates Walmart in Houston and Roxy Cinema in Renton, Washington but a fan of Air National Air Conditioning & Heating in Tampa, Florida. Payless, Foundation Repair, Nicks Plumbing, Quality Appliance Service and Air National Air Conditioning & Heating, I see amongst several reviewers connected to Detroit Seafood Market and Immediate Response Plumbing.
Sam Lightin has left reviews for Jimmy Z and Quality Appliance Service and Just Plumbing Service Inc in Chandler, Arizona.  Jessica Lonton also reviewed Just Plumbing, Quality Appliance Service, and Air National Air Conditioning & Heating. Kimberly Watkins reviewed Just Plumbing Service, Detroit Seafood Market, and Affordable Appliances Plus. All of these reviews were posted in the past two weeks.
Jimmy Z Appliance Services Facebook
Jimmy Z. has a 4.0 rating with 17 reviews. The most recent is from Tim Moseley. Mr. Moseley lives in Detroit, so its highly unlikely that he has been to Washington and need his appliance repaired unless Jimmy Z travels out of state for repairs. The banner image for Mr. Moseley states he offers website design in Detroit. The telephone number is that of AAAAA Plus in Detroit which is owned by a Mrs. Moseley!!! Next, we have the review of Sam Lewis who claims to live in South Pasadena, California. He also is friends with Timothy Moseley, Tony Collins, Ashley Heard and Ashley Lewis. Sam's profile image is a stock photo.
If the negative complaints against Jimmy Z are not enough to scare you, the fake reviews should. The current theme in the complaints is the following, repair person shows up, collects a deposit and needs to order a part and never comes back or the work is completed and the appliance doesn't work. I reached out to Jimmy Z and have yet to hear back yet.
Please follow and like us: