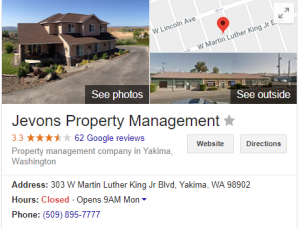 Is Jevons Property Management located at 303 W Martin Luther King Jr Blvd, Yakima, WA 98902, falsifying reviews? With a 3.3 Google rating it would appear that they are not, but sadly, you would be incorrect. While a majority of their fake reviews are over a year old, a new one popped this past month. The review by Shaun J. Miland appears to be highly suspicious with reviews in 3 different states and 2 countries. This glowing review came right after 3 negative reviews in the past 2 months. The next most recent review came over a year ago where Jessica Jung  left her review. She has a leak repaired in Brooklyn, NY and moved to Arkansas. There are also the reviews from Alyssa Williams  and Matthew Logan whom also travel to multiple states and countries. I reviewed the other listings and they didn't have the fake reviews. However, did have a mixture of negative and positive reviews.
Yelp is so kind on Jevons Property Managment with a 2-star rating with 8 reviews. Only one of the eight reviews is positive. The rest complain about repairs or issue with the security deposit being kept. Yelp did filter out 27 reviews and a majority of those were negative as well. The BBB gives Jevons an A- however, the 3 complaints filed against them were never marked as accepted by the consumer. There are no reviews listed on their Facebook page, which could be because you can turn off the review feature.
It is clear to see that the fake reviews have been happening over the past two to three years. While most people won't research Jevons Property Management until after they experience a problem or problems, those with complaints should contact the proper authorities and have Jevons investigated for the several patterns in the negative reviews.
Please follow and like us: