The House Next Door Remodeling is our second submission from somebody that had a personal experience with this company. The unnamed person(s) had a phone call with a rep from THNR and were told that they were going to receive an amazing 40% discount off the standard rate while not having to endure an overly pushy sales pitch. Well, the price was of course much higher then it should have been to start off with. When homeowner advised that they were supposed to be getting a huge discount, the price was dropped by 25%. The homeowners thanked the rep and sent him on his way and promptly contacted us.
We immediately looked into the reviews and complaints about both the North Hollywood and Laguna Hills. 1st off a handful of complaints echoed the above homeowner verbatim. The complaints state overly pushy sales tactics, be quoted an outrageous price. Other complaints were that the workmanship was shoddy or not up to standard. For the price of the job, everything should have been pristine. What stood out the most is people either really love or truly hate the company. There is no middle ground. Its either 1 stars or 5 stars. So which is it?
According to The House Next Door Remodeling Yelp pages, you are going to get Better Home and Garden's quality. In fact, several reviewers show killer brand new kitchens, bathrooms or windows. Sadly they are all stock photos being used to for promotions. Victoria M added the following picture captioned with" "I love my glass windows and doors." on her Yelp review. Well, I should hope so as the photo has been used on several Pintrest accounts and countless websites.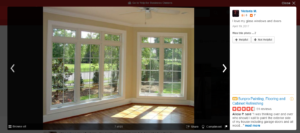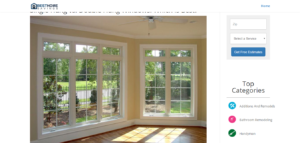 Even The House Next Door Remodeling has posted other stock photos and images that they claimed was their own work. Manny R. even got in on the action and showed off his wonderful new viral backyard and playground equipment. A quick check on several Yelp reviews shows stock photos being passed off as legitimate work.
Time traveling reviewers.
The fascinating thing I see that Nei Z would respond to a 5-star review before it was left. My mind is completely blown away by this. Nei should play the lottery!!! THNDR has to be so great that only excellent reviews come in.
Of course, the other folks that complained stated that a rep contacted them via, email, phone and in person stating that the bad employee(s) were terminated and please accept this gift card and change you negative review into a positive one.
Google reviews too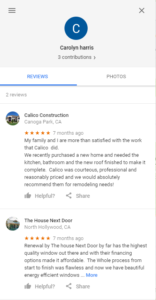 The House Next Door also has fake reviews and images being posted on Google as well. Andrew Quinteros posted a 5-star review of his new bathroom. He should as his bathroom is all over Pintrest and websites. There are the several reviewers that reviewed thnow-closeded Calico Construction in Canoga Park. All of the reviews were posted 7 months ago too. Just look at Carolyn Harris's 2 reviews.
I reached out the THNDR for comment regarding the countless questionable reviews and images being used. I have not heard back at all. In the meantime, if anybody from The House Next Door Remodeling shows up to your house, do not let them in.
Please follow and like us: