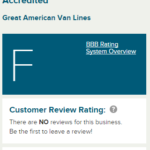 Great American Van Lines has an F rating with the BBB because they ignored 7 consumer complaints. They have also been engaging in falsifying reviews for at least 4 years. The first fake review was posted 4 years ago by Christie Laird. Christie has only left 2 Google reviews and one was Russ Darrow Honda. In Christie's review for Great American Van Lines she states she moved from Pennsylvania to Connecticut. Leave a review in Milwaukee doesn't add up. Russ Darrow has been exposed for falsifying reviews and they stated they terminated the employee responsible.
More Fake Reviews
Thomas Peck is a local guide with 96 reviews. A local guide is supposed to be a Google Trusted reviewer, however, anybody can become a Local Guide with even one review. Thomas has used 12 different moving companies in a 4 year period. Thomas needed 3 different driving schools when he wasn't busy shopping at 6 different Trade Fair Supermarkets.
Sharone Azizian doesn't move much and spends her free time needing 5 different party bus rentals. Every bus rental was excellent, but sadly couldn't be booked the next time. It is nice to know that there are 5 really excellent party bus rental companies in New York.
Lima G claimed to have moved from New Jersey to Illinois while leaving reviews in California, Texas, Minnesota and in Canada.
More Recent Reviews
Johnnie M. McClain has left two reviews and both were for movers. Johnnie used All Around Van Lines in Chicago, Il. Both reviews were left in 2017. David Garcia also has only left 2 reviews and his second one was for All Around Van Lines too. Samuel Sharman and Johanna Rosemailia both left glowing reviews for All Around Van Lines too.
Somebody connected to Great American Van Lines has been purchasing fake reviews in an attempt to counteract the 9 negative reviews that were posted over 5 years ago. Great American Van Lines has had 12 negative reviews in 2017. That is one complaint a month. They have also ignored 7 consumer complaints filed with the BBB.
It is beyond obvious that these reviews are fake. I also found the same activity on Yelp. Stav S.  reviewed seven different moving companies in three different states. Yelp gave Great American Van Lines a 2-star rating. Yelp filtered out 139 reviews too. A lot of the filter reviews were all negative. Yelp shows a concussion effort at the end of 2016 by Great American Van Lines to reply to the reviews. In fact, a majority of the businesses replies were done in 12/8/2016. This makes it appear that the fake reviews posted were done as an ORM Online Reputation Management strategy to repair the image of Great American Van Lines. If this is the case, it did work. The complaints kept coming in and the ratings took a hit. There is no amount of fake reviews to combat poor customer services or customer complaints. If you are looking for a moving company, it might be wise to move away from Great American Van Lines for your own piece of mind.
Great American Van Lines
234 16th street,
Jersey City, NJ 07310