Google recently published a study claiming that fewer than 0.5% of local searches lead to fake listings. We must have found the 0.05% while only looking in just the Los Angeles market. We found 5 fake businesses that we set up for lead generations practices. Lead Generation means that the listing was created with a telephone number and/or website to get consumers to find and contact the business for service. Those businesses are in the appliance repair services and all have fake profiles reviewing them. They are: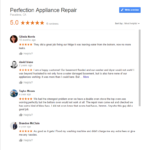 Sloan Burris Appliance Service
Perfection Appliance Repair
Western & Sunset Appliance Repair
Boulevard Pioneer Appliance Repair
Epson & Sons Appliance Repair
None of these businesses have a valid website. The ones that have website listed links to a blogspot domain. Blogspot is a free blog website that anybody with an email address can register with. The telephone numbers associated with these businesses are call tracking numbers too.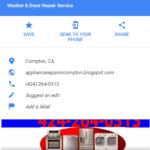 Let's take look at Sloan Burris Appliance Service. For starters, the telephone number is a tracking number. We called it were told to wait for an operator to take our call. Sloan has a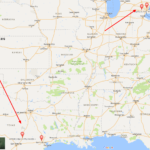 generic blogspot web address listed. Now there are the 5 5 star reviews. Dale Lauder is quite the traveler and reviewer. He has been to Michigan, Raleigh, NC and used our friend's Affordable Appliance in Austin, Texas. It appears that Sloan wasn't able to fix the "possessed" washing machine so Dale's family had to visit Affordable Appliance+. By the way, Dale Lauder is actually comedian Michael McIntyre's alias in the United States. Next, we have Robin Powell whom has been to and reviewed Detroit Seafood Market and Epson & Sons Appliance Repair. It appears that Sloan was unable to fix the stove so Robin is now with Epson. Robin's profile picture is a stock photo of women with big hair. We then have another 5-star review from Tasha Thomas. Her profile picture is also a stock photo of a baby playing with toys. Poor Tasha has needed to visit 2 different appliance companies, one in Florida and one in El Paso Texas to repair her TV. Our last reviewer is Timothy Mosley who's profile picture is cropped out of another stock photo. He reviewed Yaia Water in Houston, Texas. Yaia has been reviewed by some of the folks that have reviewed, Detroit Seafood Market, Immediate Response Plumbing and  Affordable Appliance+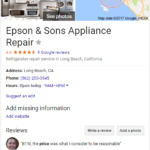 Next, we have Epson & Sons Appliance Repair. They don't have a website listed and have 9 reviews. Robin reviewed them. We have Shante Westwood who has reviewed  Affordable Appliance+ and Detroit Seafood Market. We also have Devon Lepton who has used Air National Air Conditioning & heating in Tampa, FL. We have Amber Moseley-Riley who has reviewed Kingsley Locksmith in Ann Arbor, MI. Our good buddy Dale Lauder also reviewed them too. Marshalla has also been to Michigan and has her trash cans picked every Tuesday at 9:30 am as she can set her watch to them. That is important after all. We have Darin Avery whom also has his trash collected by Rizzo Environmental Services and had to have his dishwasher repair in West Valley City, UT. Our last fake reviewer is Diana Lewis who has used Nick's plumbing in Houston, TX.
A clear pattern of abuse
The same is true for Perfection Appliance Repair in Pasadena, CA with 6 5 star reviews and the generic blogspot website. David Blaine, Glinda Norris, Brandon McClain, and Jim Golden have all visited or lived in Michigan at some point in time. Both Jim and Barthoew Manners have been Texas and used either Immediate Response Plumbing or Affordable Appliance+. We find the same pattern with Western & Sunset Appliance Repair and Boulevard Pioneer Appliance Repair. However, Boulevard is the only one with reviews posted in the last 2 months.
There is a clear pattern of abuse and fake reviews between these 5 businesses. The reviewers are reviewing a lot of the same businesses that we have covered on this website and will continue to write about. The downside here is that there is no way to determine who the owner of this business is except to government to track down the owner of the call tracking number. We have notified Google that this business does not exist and are awaiting them to review the businesses. If you can not remove the fake reviews, maybe we can remove the fake businesses instead.
Please follow and like us: