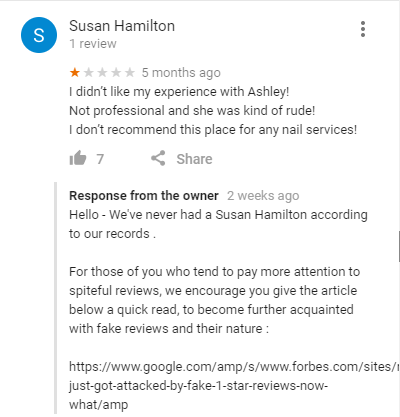 Essence Salon and Spa at 1015 Waterwood Pkwy Suite H, Edmond, OK 73034 takes the cake for the horrible business review replies. A thread came in over the weekend accusing the business owner of doxing people with their replies to negative. Dox is searching for and publish private or identifying information about (a particular individual) on the Internet, typically with malicious intent. She published names, address, phone numbers of her former customers in an attempt to get the negative review removed. This is going to be my first post written out of anger. To the person at the Essence Salon and Spa, you are a horrible nasty person for doing this. You actually crossed a line when you decided to post in a negative review reply how businesses get attacked with fake 1-star reviews and a link to an article.

I can't believe that somebody connected to this business would have the audacity to accuse a reviewer of posting fake reviews when this business has not one not tow but thirty fake or suspicious five-star reviews! Yes, this business has several reviewers leaving reviews all over the United States and Canada and other countries. For example, laifa malored has left reviews in New Jersey, Georgia, New Hampshire and for Essence Salon and Spa. Madison Alever left reviews for Private Investigator Delray Beach, had dry cleaning down in Southern Californa, her nails down in the United Kingdom and had a spa treatment in Canada. Several reviewers have left reviews for several of the same businesses like Ultimate Party Bus of New England. It was reviewed by ali narmed, Jessica Tamel and Madison Alever.

Posting fake positive reviews and replying to negative reviews by posting personal and private information is not a marketing strategy. If this business does turn things around, they will be out of business soon. They are going to gain a reputation for bad service and being rude. If the rest of the community finds out that they have or had fake positive reviews, they will be no coming back. Honestly, this business doesn't deserve to be in business. They should shut their doors for good. It is one thing to have bad service, but when you combine that with an attitude and attacking former customers, it never ends well.

Update 1/7
The person handling the review responses went in and removed the doxing replies and are now using the same the canned response. The replies to the reviews have been altered several times. Now to add insult to injury several fake negative reviews have started being posted calling out the business for doxing and posting fake reviews. This is known as the Streisand effect. Essence Salon and Spa did themselves no favors attempting to discourage the negative reviews. While a few reviewers have removed their reviews, several left theirs up. It will now be to up Google to step and clean house by removing all of the fake positive and negative reviews. Stay tuned, as this is not over yet.
Update 1/9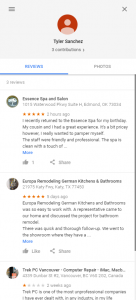 Essence Salon was covered on NBC OKC on Monday January 7th. Google has yet to take action to eliviate the damage. The business onwer has attempted to change the business name and mark the business as permantetly closed to stop the review attacks. It didn't help. The business is now marked as open and the fake review are still being posted. There is a postive review posted by Tyler Sanchez. Tyler has left a total of three reviews. One of Tyler's reviews for a Trek PC Vancouver where he was not satisified. It turns out that somebody has been buying fake negative reviews to attack Trek PC. Don't feel to sorry for Trek PC, they are a spammer too. They created fake listings, keyword stuffed their name and had fake reviews themselves. Essence Salon is not helping themselves out any. They need to relax and step away from the reviews, ut how can the when they don't know that any help is on the way.
Please follow and like us: