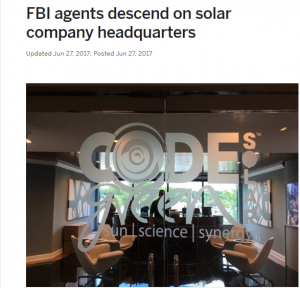 Before you allow a representative from Code Green Solar into your home, you need to see what Review Fraud uncovered. It appears that Code Green Solar using an Online Reputation strategy to battle negative review and press. For starter,s the fourth Google result for their name is the coverage of the FBI conducting an investigation and visiting Code Green Solar in June 2017. The FBI would not give details on their visit but said it was part of an ongoing investigation. We were not able to find out any additional information on the investigation. However, we quickly discovered random acts of generosity shortly after the story was published. CEO Charles Kartsaklis granted the wish of a cancer patient to visit Disney World as was published on their website ten days after the FBI visit. Then in November 2017, Mr. Kartsaklis walked into Toy R Us and paid off 62 layaway orders totaling over $10,000 and donated another $2,000 to Toys for Tots. We reached out to reporter Pat Gallen about this and have not heard back. We find it odd that a Philidelphia sports reporter was in a New Jersey Toys R US for a story and that Mr. Kartsaklis just happened to play a not so secret "secret Santa". This is review fraud, so let's get to the review that we suspect have been manufactured. This is a typical ORM strategy. I once worked for a roofer that couldn't stop drinking and driving and performed a blitz campaign of making donations, blogging about and submitting press releases.
First, we have the glowing Google review from kayle merie  Ms. Merie used two driving schools in Illinois, an optometrics in California and a moving company in Australia. We next found the review from San Brian who also reviewed a demolition company in California and a property management company in Florida. We also have the review from Vineet Sahni who left several reviews around India and a business in London. We also see the review from Ishan Sharma who reviewed Attending Home Care just like Vineet did. In fact, there are two different reviewers by the name of Vineet Sahni The second one writes his reviews in french too. There is also the review from Love is part of life f who left reviews all over Asia. In fact, this reviewer, also left a random review for an app to wish your friends and family a good morning with images. The highly questionable reviews started to show up between November and December 2017. In fact, they showed up after six negative reviews were posted.
Yelp is not as kind and shows that Code Green Solar has a 2.5 rating with 5 unfiltered reviews. The review by Tessa K. is interesting as she lists her home city as being in Tucson, Arizona. She has solar work done in New Jersey, Turfgrass in San Diego, Mold removal in New York, seal coating in Illinois, vent services in Massacheutes, gate repair work in California, more solar work in Tempe, Arizona. The list of businesses in services in states grows when you click through the pages. We also discovered this photo from Jay A of the work that was completed. It turns out that is a stock photo It turns out that Jay's reviews were filtered out by Yelp yet they allowed his photo to remain live. Yelp has filtered out several 4 and 5-star reviews from out of state.
While the BBB gives Code Green Solar an A+ rating, they have had 24 complaints closed in the past three years. In fact, fifteen were closed in the past twelve months. The majority of the complaints reference not receiving their sign up bonus of $1000 to $1500.
It will be interesting to see what if anything comes of the FBI investigation. The FTC has a great case here with the reviews and the complaints of from the BBB. If you posted a complaint with the BBB, contact the FTC and file a complaint. We recommend that consumers go elsewhere as there are too many red flags. Maybe Mr. Kartsaklis should call his company Code Red Solar instead as it is more appropriate.
Please follow and like us: