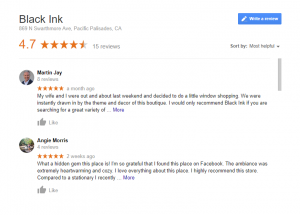 We have all had that client that we should have never worked for in marketing. The proved to be more hassle than they worth. Yet, we focused on making money and took them on anyway. The relationship never improved and ended up being a major headache. The client finally canceled and everyone was better off for it. This is not that happy ending. This is the story of the client that you should have never worked with and the end of the relationship landed you on the NBC Los Angeles News at 11:00 PM with Joel Grover. That is what happened to the OCSEO aka Swell Marketing aka BulletProof Digital in Huntington Beach, California. When I was first contacted by Joel Grover and his producer Amy Corral, they really wanted to do a story where they set up a sting to purchase fake reviews. We brainstormed some ideas on what type of businesses. Mr. Grover really wanted a storefront that the customer had to physically visit and exchange money for goods. Joel and Amy came up with a business and the plan was put in place 4 months after the first story aired in September.
Where to Get Fake Reviews
I had supplied Mr. Grover and Ms. Corral a list of suppliers to acquire fake reviews, Craiglist, Fiverr, Upwork, Freelancer a Facebook and a handle of websites offering fake reviews. They went with Fiverr and instantly received 8 reviews. Fiverr doesn't make for great television and Mr. Grover didn't receive countless Emmy's by not knowing what makes a compelling story or an excellent investigation, so I was asked for a list of local marketing companies that would be willing to sell fake reviews. I turned over a list of a half dozen local SEO/ ORM companies with fake reviews. SEO is short for Search Engine Optimization and ORM is short for Online Reputation Management.
Mr. Grover selected Bulletproof Digital and started an online chat with an employee with Bulletproof Digital. Amy Corral signed up for the monthly service and called me for help prepping for the boarding call. Bulletproof was asking for access to the website, server and social media accounts. I coached Amy to say she needed to dig up all of that information. If you work in SEO, this is not uncommon. Amy never supplied any of this information. The boarding call never happened. Amy paid $500 and was assigned an account manager Mason Nguyen. At first, everything was wonderful. Tom Gaither and Mason were attentive and quick to respond to email inquiries. As the first month ended, it was time to renew or sign up for a monthly package.
For a full month of ORM services all Amy received was two fake reviews. No other work was performed since no access was every supplied. Mason told Amy over the phone that he personally wrote and posted the two fake reviews. The reviews were done in-house and were not outsourced. $500 got them two fake reviews and 5 minutes of Mason's time post the reviews. I looked up Mason and found that he spends his time walking around the marina behind Bulletproof Digital taking photos and videos of the boats and posting them on Instagram.
As the month was ending Amy attempted a face to face interview. This in-person meeting was so that Mr. Grover could walk in with camera in tow. The team at Bulletproof were not having it. Instead, Amy was asked if there were any issues with the services or if any improvement were needed. Amy told them everything was fine and that she just wanted to see what the plan was moving forward. Mason informed Amy that they don't conduct business in person. It was too late as Joel and Amy were on the freeway heading down to Bulletproof Digital.
Caught On Camera
Amy Corral walked into Bulletproof Digital at 2:40 PM on Wednesday, February 21st. Jeanette Morales, the COO quickly proceed to her office and shut the door. Tom Gaither didn't even bother to turn around to greet Amy. Amy was alone and as Joel and his camera person were waiting for the green light to come in. Amy invited Mason to join her at Starbucks for coffee. Mason told Amy he could not meet with her as he had a call in 5 minutes. Amy stated she would go grab a cup of coffee and come back. Again, Amy was advised that Mason still couldn't meet as he had another meeting at 3:00 PM. Amy left.
A few minutes later Joel Grover walked in with his camera person. Joel immediately starting asking about the fake reviews that were written. Tom Gaither, refused to answer any questions. Mr. Grover turned to Mason and asked him about the fake reviews that he told them both on the phone that he personally wrote and posted the reviews. Mason got up and walked out of the office. Mr. Grover followed Mason outside to keep asking him questions. Mason turned around and walked back inside and closed the turn. Mr. Grover feels that the door was not locked and that Mason was firmly pressing against the door to prevent it from being opened. Mr. Grover and his team left and headed back to the studio.
As of Friday, February 23rd, Mr. Grover had yet to hear back from anybody at Bulletproof Digital. Mr. Grover asked me for help removing the reviews that he had purchased. This was the first time I was able to learn about the stationary store that was used and see the reviews in question. I was only supplied a list of names and I needed to grab the URLs to submit to Google via a private chat. As I started copying the URLs I quickly got excited. I saw a name I recognized. I immediately called Mr. Grover and told him I knew the reviewer Angie Morris was supplied by Bulletproof Digital. I met Ms. Morris at one of Tyler Collins' SEO meet up events. She is also listed as an employee of OCSEO. This is also the second review connected to a former employee that appears to be faked. At least this one was positive. I sent over the documentation and proof of Angie's connection to Tyler and OCSEO. In fact, both reviews supplied by Bulletproof Digital left reviews for Swell Marketing. The review by Martin Jay is actually somebody else out of Jupiter, Florida. I finished creating my list of URLs and submitted them to Google. I am shocked that the reviews were not deleted by Mason or Tom after Mr. Grover and his team left. It is now Saturday morning, and the reviews are still up and I am able to see the other businesses that have contracted Bulletproof Digital for their ORM services. My guess is the fake reviews will be removed by the end of the day on Tuesday, February 27th.
Update February 27th.
As of 9:00 am, the Google reviews were removed by Google. I know that Google took action as even reviews older than 2 years were also deleted. Joel Grover's story can be viewed here: Who's Behind Fake Online Reviews?
Please follow and like us: