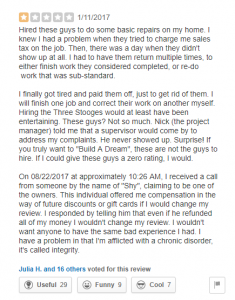 Build a Dream might be a more of a nightmare. While they have a 4-star Yelp rating, it does appear that the reviews are being manufactured or manipulated in their favor. The first questionable 5-star review is from Tal "prince ali" A. It appears that Tal loves leaving reviews for several chiropractors, locksmiths, and remodeling companies. In fact, Tal reviewed, 2 different chiropractors, 4 locksmiths and 10 remodeling companies in under 2 years. There is the review from Lesmi M. who reviewed 3 different remodeling companies, with one being in San Diego.  There is the glowing review from Ilan S, who left reviews for 2 different garage door repair companies and a locksmith. We also have the profile of Shlomi B. who had installation work done in San Jose and his kitchen and bathroom remodeled in Fort Lauderdale all in 2017. My personal favorite is the review and photo from Mary S, who posted a photo of the work performed. As it turns out, her boyfriend's dad (yes this feels like that scene in Ferris Bueler) has been featured on countless Pinterest accounts and design websites: Mary is also the ultimate tenant as she keeps contacting service companies on her landlord's behalf.
Google reviews
The Google reviews for Build A Dream also seem to manufacture as well. The most recent review is from dedra leeman, who left 13 reviews for construction and remodeling companies. He also left reviews for 4 solar companies, 4 cosmetic companies, and 3 spas. There is the review from Jenny Crag  (not Jenny Craig) who is using a stock photo image for air conditioner maintenance who has reviewed 8 moving and storage companies in several states. She has also reviewed 6 construction companies, 3 cosmetic companies, and 2 spas. A  check of other Google reviewers showed the same patterns. In fact, our Yelper Mary Santiago left reviews on Google too. On Yelp she reviewed
Green NRG in Chatsworth for "her landlord" but on Google, she reviewed PacificSky Solar and didn't mention "her landlord." She also reviewed Sterling Builders Group INC in Tarzana stating that they painted "her house" and did mention her landlord at all.
The most interesting review was the negative Yelp review from Peter S. He review was voted useful 29 times, funny 9 times and cool 7 times. He also states that he was offered future discounts or gift cards if he updated his review. The other negative reviews are voted up more than the positive reviews. What seems to build a dream is looking more like build a nightmare.
Build A Dream
14428 Hamlin St
Ste 330
Van Nuys, CA 91401
Please follow and like us: