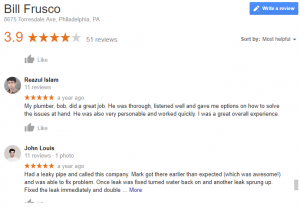 Before you contact Bill Frusco, you should look past their ratings and take a deeper look at their reviews. Bill Frusco made have a 3.9 Google rating but how many fo their 5-star reviews can be trusted? At the present moment, we count 14 reviews that appear to be fake and manufacture from over a year ago.
The oldest review is from Melissa Wright who also left a review for Air National Air Conditioning and Heating in Tampa, Florida. Air National was exposed by NBC Tampa reporter Josh Benson as having suspicious reviews. http://www.wfla.com/8-on-your-side/alert-fake-reviews-discovered-in-tampa-bay-business-listings_20180227111517601/994948556 Next there is the review from Ned Turner. Ned has a washing machine repaired in Keller, Texas, roof repairs in Indianapolis and plumbing services in San Antonio. We next have the review from Arnold Tower who also used the same plumbing company in San Antonio, the appliance repair services in Keller, while needing plumbing work done in Chandler, Az and another appliance repaired in Seattle, WA.
We have identified a network of businesses sharing reviews from the same reviewers. In fact, Bill Frusco is connected to patient zero, Immediate Response Plumbing in San Antonio. They are the first business I discovered with reviewers that were world travelers and with homes in multiple states. Bill Frusco and Immediate Response Plumbing share reviewers with:
Air National Air Conditioning & Heating
1002 W Busch Blvd, Tampa, FL 33612
The Original Keller Appliance
400 N Main St, Keller, TX 76248
Jimmy Z Appliance Services
Seattle, WA
Just Plumbing Services Inc
6503 W Frye Rd #9, Chandler, AZ 85226
AFFORDABLE APPLIANCES PLUS
5510 S IH 35 Frontage Rd #210, Austin, TX 78745
Detroit Seafood Market
1435 Randolph Street, Detroit, MI 48226 –
Where did reviews come from?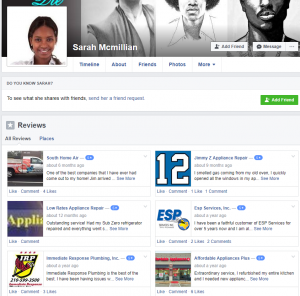 We have heard several stories related these reviews. A: All the reviews are real. B. No idea where the reviews came from. C. A web design/ marketing company is responsible. However, Air National provide email proof that they hired 5 Star Rep Management aka AAAAA Plus aka Ashlee Marketing CO. Based on the reviewers' profiles and businesses being reviewed it is extremely likely that Bill Frusco contracted 5 Star Rep Management for either online reputation management and/ or SEO ranking services. The Facebook page for 5 Star aka Online Reputation Management received four 5-star reviews. Sarah Mcmillian left reviews for Immediate Response Plumbing, AFFORDABLE APPLIANCES PLUS, Jimmy Z Appliance Services.
The question remains what Bill Frusco's defense will be regarding these reviews? We will update the post after the ABC Philidelphia story airs. Stay tuned for the update.
Please follow and like us: