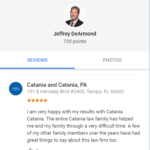 Should you use Best Edge SEO aka Best Edge SEM in Tampa Florida? Jeffrey DeArmond owns both businesses. Best Edge SEO is running out of his home even though he created a suite number and Best Edge SEM doesn't exist. It is using a virtual office is goes against Google's TOS. Google will only allow a business to have a map listing if it is staffed during regular business hours. Best Edge SEM states its office hours from 8:00 am to 6:00 pm Monday through Friday. Best Edge SEO is open 7 days a week form 8:00 am to midnight. The first review for Best Edge SEO's Google My Business is from Kate Lee. Kate has left 5 reviews in 4 states. She left a review for Ozane Termite and Pest Control in New Jersey, whom we previously identified as having fake reviews. Best Edge SEO only has the one, while Best Edge SEM has 3 fake reviews.
Best Edge SEM Fake reviews
Bob Martin has left reviews in 5 states. He just like Kate needed a one time Taxi at Logan Airport. He also needed the use of Tony's Locksmith INC in West Palm Beach, Florida. Adria Morris as left reviews in 6 states and also managed to review Tony's Locksmith Inc. Anton Hopkins left reviews in 7 states and 1 in Canada. He too left a review for Tony's Locksmith INC.
Jeffrey DeArmond reviews
As it turns out, Jeffrey DeArmond loves leaving Google reviews. In fact, he leaves glowing Google reviews for his own clients. He has left reviews for the following clients:
Catania & Catania
North Tampa Law Grouo
Zoecklein Law P.A.
Tampa Family Health Centers
Dr. William W. Adams MD
Hermann Wellness
Landon Plastic Surgery
Advanced Pool & Spa Inc
In fact, even Aimee Taylor has also left reviews for Best Edge SEO/ SWM clients too:
AFC Urgent Care
Zoecklein Law P.A.
Catania & Catania
Dr. Kavita Rao MD
Obrochta Center for Dental Health
Skin NV
A handful of Aimee's reviews are posted in the first person and all describe a personal experience. Other speak in vague terms that support her clients as well.  It's also interesting to see that Catania & Catania have also been reviewed by both Dave Sturgess and Debbie Adams.
Please follow and like us: