It appears that the overly glowing reviews for Asal Motors are not enough to battle the negative reviews. Asal Motors currently has a 3.8 rating with 253 Google reviews. Should Asal Motors be trusted or do we need to look further? A closer look sheds light on a network of questionable reviews affecting countless businesses.
The first reviews that Google serves up as most helpful, was posted 4 days ago by Lydia Dean. Lydia has 10 reviews, but a look at her profiles clear shows Lydia leaves reviews in California, Texas, Florida and New Jersey.
Next, we have the review from mariella nick who reviewed 3 of the same business in 3 different states as Lydia. Those businesses are Asal Motors in New Jersey, Payless Response Team in Florida and C&C Property Management in California.
The 3rd most helpful review was left by Iris West. She is the 3rd review posted by a woman too. She too left reviews for Payless Response Team in Florida along with 9 different moving companies. She also left a review for Zeuslending.com in Houston, Texas just like Lydia did.
Next, we have the review from Tureck Bailey or as I like to refer to him as Chef Wolfgang Puck since that his image. Mr. Bailey left reviews in Ireland, the UK, and Peru. Mr. Bailey doesn't share any reviews with the above ladies, however, he did leave a glowing review for Psychic & reiki Readings in Summit, New Jersey.
It turns out that Laura Birkinsale a level 5 local guide also left a glowing review for Psychic & reiki Readings in Summit, New Jersey and for Ryan Amato Painting, LLC as did Mr. Bailey.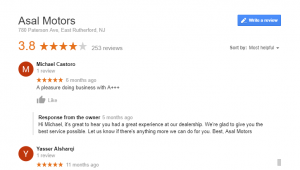 It appears that somebody connected to Asal Motors altered their review strategy. When we first discovered that Asal Motors had fake reviews, they had 45 reviews posted by A Google User. Maybe it was cheaper to go with a different service to post reviews faster or maybe the positive comments stopped flowing in. The only people that will know is whoever is paying the review services.
Here are several of the Google User reviews:
Reviews
Reviews
Reviews
Reviews
Reviews
Yelp tells a different story. Asal Motors currently has a 1-star rating with 17 reviews. All 17 reviews that are live are all 1-star reviews. There are 30 filtered reviews that Yelp does not trust and 18 of them are positive. I can see why some were filtered by Yelp filters. The negative reviews repeat the same message of buyer beware. It is worth noting that the reviews are also voted on as being useful by other Yelp users.
If you are thinking about purchasing a used car, you might be better off skipping past Asal Motors and going elsewhere.
Please follow and like us: