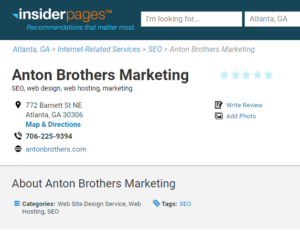 Anton Brothers Marketing aka Atlanta SEO is gaming the system with spam links and a spam business and fake reviews. Anton Brothers Marketing updated their Google listing to and are now calling themselves Atlanta SEO. This is not allowed, but they are skirting the issue because that is the name they listed on their website. The also the benefit of the exact match domain. The backlinks are bought and from spam farms, Private Blog Networks (PBNs) or forums. Since this site is review fraud, let's dive into the reviews, which are the bigger issue.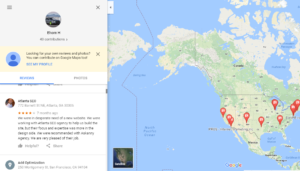 The first review that is listed under most helpful is fake. Ehorn H loves them even though they only know web design and needed to recommend a different SEO company. Wait, this is Atlanta SEO!!! Surely they have to know and understand SEO? Apparently, Ehorn is hard to please as he/she has had to use 19 different web design/ SEO/ Marketing companies in 7 months. Ehorn it appears has left the world of car buying and auctions from 3 years ago.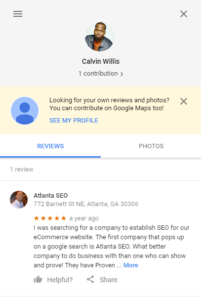 Calvin Harris only felt compelled to leave 1 review and it's for Atlanta SEO, Calvin wants everyone to know that:
The first company that pops up on a google search is Atlanta SEO. What better company to do business with than one who can show and prove!" Sure that is what matters for any SEO company. It turns out that this might be Calvin Willis and not Calvin Harris according to the reverse image search. I attempted to track down Mr. Willis but his website has expired.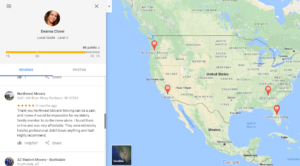 Next, we have Deanna Clover who left a review for APVI in DC. APVI has been on our master list for 2 months now. Deanna has used moving companies in Phoenix and Scottsdale Arizona and in Portland, Oregon. An image search shows reviews left for NJSEO. The pop-up video for NJSEO is the same one that Anton Brothers have. In fact, the review she left for Atlanta SEO is being used word for word for NJSEO too.
Hanson Le has used 2 movers companies and 2 marketing companies all a year ago. Hanson only left 4 reviews and went radio silent since. It appears that his fortune 500 company never panned out with the Anton Brothers Marketing.
I personally reviewed the websites that the Anton Brother's worked on. The sites are super basic. They did not build or coded from scratch. They are Godaddy site builder. The traffic spiked for a while and then came crashing down. The websites doe not pass the basic speed tests and have tons of coding issues. This is a major case of buyer beware. Normally I'd tell people to look at other reviews sites, but they there is no Facebook, Yelp or BBB listing for them. There is a nasty complaint on Ripoff Report.
Please follow and like us: