Posted on April 17, 2017 by Review Fraud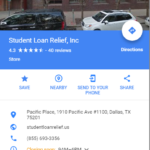 Fool me once shame on you, fool me twice shame on me. That is precisely the situation with Student Loan Relief INC. You see, Student Loan Relief INC was previously the subject of news report by CBS 11 News Dallas Fort Worth for failing to provided services that they were contracted for. According to consumer complaints lodged with the BBB. Jason Spencer admitted to ignoring the complaints with the BBB. He even went as far to clam while crying, that he only read one complaint. He still has 24 complaints that have been ignored. He does have 10 complaints that were resolved, while he has  21 complaints that the consumers reject the offer and solution. Student Loan relief still has an F rating with the BBB. Cristin Severance compiled an investigation and ran the story for CBS on February 24th, 2016. She was very alarmed to see that Jason was falsifying reviews and racking up more complaints after her story ran when I spoke with her.
So what is the story with the 5 star reviews with Google? The 5 star reviews are fake. They are posted by fake profiles. The profiles have reviewed countless business in England. Nancy Smith only left a 5 star review while leaving 6 reviews for businesses in the UK. Melford Mc has left 1 review for a business in the UK and Australia. Then there is Akash Thirunagari whom also has reviewed business in India, the UK and Student Loan Relief, INC. There is also Robart James whom reviewed a business in the middle of the Atlantic Ocean and whom claims to live in California and New York.
Real negative reviews
The negative reviews claim that Jason Spencer and Student Loan Relief INC failed to make the student loan payments for their clients behalf. The reviews state they the consumer entered into a contract with Student Loan Relief INC to have their bank accounts automatically deducted with payments made on their behalf to pay off the student loans. The reviews state that only the money was deducted and was never used as payment on the loan. Cristin Severance is again looking into Jason Spencer.
Based on the fact that Jason Spencer was previously exposed as failing to deliver services that he was contract for and the recent reviews and complaints being filled against him, do not not use Student Loan Relief INC. It is our opinion that you will be in for more headaches and issues if you contract with them.  Jason Spencer will not be able to cry his way out of this mess.