Posted on April 4, 2017 by Review Fraud
If you are thinking about eating at Detroit Seafood Market in Detroit, Michigan, you might want to think twice. Detroit Seafood Market has countless fake 5 star reviews. For the past 6 months Detroit Seafood Market has a steady flow of 5 star Google reviews. The first fake profile review was post by Robbie Thomason back in October 2016. With a 3.9 star rating on Google with 233 reviews, this seems to a great and popular place. However take a look at complaints and see what the lowest reviews claim: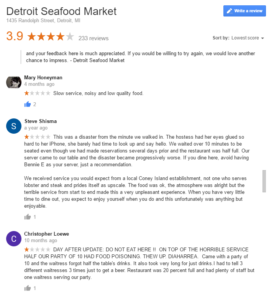 Items listed in website are no longer offered
Food tastes bad
Poor or slow service
Complaints of food poisoning
One of the negative reviews:
"The food is alright but absolutely horrid customer service from the man working as the host. I believe he was the Manager as well. I have been eating there for over a year and always enjoy the same lunch entree. Today however was much different. After placing the order online and arriving to pick up my food I was informed that the online menu was wrong and that the manager now wanted to charge an additional $5.00 after I had already paid online. After the disagreement I requested a refund and stated i would not return. This manager said good and take the food."
Another similar complaint of rude staff and bad food:
My first visit was for restaurant week.  The hostess was rude.  When I gave her the name for my reservation she told me there was nothing listed under my name, and that she was the only one who took reservation and didn't recall speaking to me. I told her I spoke with a male named Justin/Jason. She replied she would find me something. Food was  Poor to mediocre, we had to request two more dinner settings & waters. Wouldn't return"
Detroit Seafood Market Fake Reviews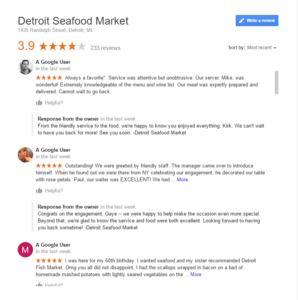 So what is the deal with 5 star reviews. As far as we can tell, a majority of them are fake. Not only is the business involved with a service, but somebody connected to the business is replying to the reviews. If you look at the profile for Gaye Matei. You will see reviews for Bill Frusco, Psychic Readings and Tarot Parties, along with 3 businesses in England and 1 business in Canada. We notice several reviewers also reviewed Bill Frusco and several of the same businesses in different states. The review from Kirk Hatfield is no longer live for DSM, but is still live for the other business that this fake profile has reviewed. Either Detroit Seafood Market is a super fancy restaurant where their customers are world travelers with homes in multiple states or these profiles and reviews are fake.
If Detroit Seafood Market was really concerned with their online presence and reputation, there are better ways to spend their time, money and energy.  For starters the need to remove the noindex tag from their website so that Google and other search engines can crawl the website. Then they should redesign and recode the website. The page speed is 30/100. They need to be 90/100 or better. Since the website loads too slow, they are being hindered in their organic seo traffic, the noindex isn't doing them any favors either. Next they need to focus on and address the staff issue and complaints. No business should ever get a negative review about rude staff. They need to make sure their the host and wait staff is friendly and attentive. This is a service business, DSM needs to server and take care of their customers. Next they focus on the kitchen and food. We understand that you will run out of an item or items. We won't fault them for this. However the food that does come out, needs to be cooked and flavorful. If Detroit Seafood Market focused on these areas, they would see an increase in real 5 star reviews and more customers.
However the fake reviews are illegal. The FTC can fine business a minimum of $250,000. When the FTC does take action, they submit a press release and SEO community writes about it.  However, we are putting the cart before the horse and writing about the fake review process before the FTC completes their investigation. We are taking action, because people are paying for bad food and service while somebody is attempting to hide real negative reviews with obvious fake reviews. Don't eat at Detroit Seafood Market until the owner makes changes and commits to this promise: "We're sorry to see we didn't meet expectations here, Steve. We're always looking for ways to improve and your feedback here is much appreciated."
Kenny Akinwale
Detroit Seafood Market/ Ultra PV Lounge
1435 Randolph Street,
Detroit, MI 48226
(313) 962-4180